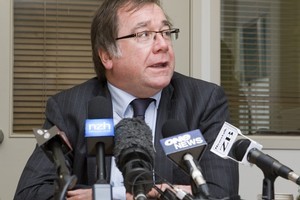 Hundreds of specialist search and rescue personnel from around the world are to arrive in Christchurch over the next few hours to aid their New Zealand and Australian comrades already combing the rubble for survivors of yesterday's earthquake.
Minister of Foreign Affairs, Murray McCully has expressed New Zealand's gratitude for the messages of condolence and offers of assistance made by many countries to help New Zealand's search and rescue efforts following yesterday's earthquake.
The Government had accepted offers from Australia, USA, Singapore, Japan, United Kingdom, and Taiwan.
In addition to the 40 strong search and rescue team which arrived from Australia a second team was expected to arrive shortly.
Yukio Yoshi, the special co-ordinator for overseas disaster assistance, spoke to nzherald.co.nz on a flight from Auckland to Christchurch. He was travelling in a group of three Japanese disaster rescue workers who had arrived in New Zealand this morning.
He said another 69 workers were due to arrive in Christchurch around midnight tonight on the Japanese prime minister's plane to help with the rescue.
Mr Yoshi said he had worked at earthquake rescue sites in Indonesia in 2009, Pakistan in 2008 and with the Boxing Day tsunami disaster in 2004. His team would operate under the direction of New Zealand officials and he expected to remain in New Zealand for one week.
He said one of their first priorities would be to ensure the safety of the many Japanese students who in Christchurch.
Twenty four Japanese citizens are missing after the earthquake.
They include 11 students from Toyama College of Foreign Languages in Toyama City, who were believed to be trapped under the collapsed building of the King's Education College language school reportedly located on the third floor of the collapsed Canterbury TV building.
Three Japanese from the cities of Morioka, Kyoto and Kobe, who studied at the same language school, were also missing, Japanese news agency Kyodo reported.
Ten students who visited New Zealand on a tour could not be contacted, a Tokyo company organising studies abroad told AFP.
Several members of the Toyama group were in the fourth-floor cafeteria of the King's College building when the 6.3-magnitude quake struck at lunch time, reducing the building to rubble.
Meanwhile a team of 75 from the US is due early tomorrow and a 63 person specialised search and rescue team from the UK is in the air and will arrive tomorrow night.
A number of Singapore military personnel who happened be in the country when the quake struck is already helping out and a disaster assistance and relief Team of 55 people will arrive tonight. Two more Singapore aircraft are due to arrive tomorrow with additional equipment.
Mr McCully said New Zealanders were "deeply humbled' both by the messages of support and offers of specialist help that had flooded in over the past 24 hours from other countries.
"Support will be critical over the next few days as we reassess the specialist services required to speed the rescue operation."
- With NZHERALD STAFF