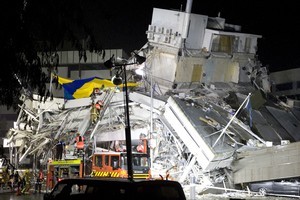 Cabinet will hold an emergency meeting at 9.30am to decide whether to declare a national state of emergency, Prime Minister John Key says.
Mr Key arrived back from Christchurch this morning and headed straight to the Beehive.
Although a state of emergency has been declared in Christchurch, Mr Key said a national state of emergency would give central government more capacity to act.
"We have enormous faith in the leadership of Christchurch and we want to give them all the support we can."
He said the short term focus was on rescue and recovery, but it would quickly move to restoring core infrastructure and providing support for "a city that will effectively have to be rebuilt."
Mr Key said while the official death toll was 39 who had been identified, police had told him the figure of 65 he provided earlier was accurate and was likely to rise further.
"You're dealing with the difficult situation where some large buildings have collapsed, there are lots of bodies they can sight but they just can't get them into the mortuary yet. They don't know how many people got out of the buildings, how many are alive, they've got mixed reports of the state of people who are trapped in those buildings.
"We know there were quite a few people around the Cathedral when it collapsed, but we just don't know how many lives that has claimed."
He said declaring a national state of emergency would reflect the size of the tragedy.
"If we did that we wouldn't be doing it because we don't have confidence in Christchurch's ability, it's just the scale of what we're dealing with."
Mr Key said the September earthquake had given a blueprint on how to respond.
"But coming on the back of six months of aftershocks and very frayed nerves, you've got people who are quite honestly quite frazzled and we'll have to give them quite a lot of moral support."
Mr Key said people in Christchurch were struggling.
"For a small country like New Zealand that has gone through a lot in the last six months, this is an enormous load to carry. We are lucky we are a resilient people, but we're certainly being tested."