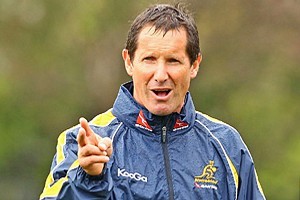 Wallabies coach Robbie Deans says his family have emerged unscathed but the tragedy of the earthquake in Christchurch is a hard blow for local people who were just getting over the trauma of last year's tremor.
Deans, a former All Black who excelled as a player and coach with the Christchurch-based Canterbury Crusaders, said he felt helpless as he watched the unfolding coverage from Sydney.
While relieved to hear that his mother and sister had emerged unscathed from the 6.3-magnitude quake, which hit at lunch time today, Deans said the recovery would be a long and painful one.
The loss of life would make it harder to overcome than last September's tremor, which was destructive but resulted in no deaths, he said.
"It is a close-knit community. They've been through this already, but this is different - this is tragic, and it's going to be tough to swallow," Deans said in Sydney today.
"They got through September 4. They were very lucky with the timing of that one, because it was in the middle of the night.
"There's no doubt (last year's quake) traumatised everyone, and it's the fear of the unknown, I guess.
People in Christchurch had just been starting to look ahead and feel hopeful, he said.
"People are resilient, but the reality is in this instance there has been a loss of life - you can never bring that back - it's tragic."
Deans said it was not the time to think about the possible impact on Christchurch's ability to host key games in this year's Rugby World Cup, which kicks off in September.
"It's hard to know (how it could affect the World Cup) - it doesn't warrant thinking about at the moment, it's not a priority."
- APN