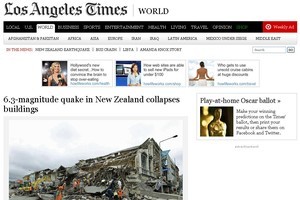 The Christchurch earthquake has featured prominently in world media.
The Sydney Morning Herald's headline for the catastrophe was "City's Second Devastating Blow" and it reported the death toll as the numbers came in.
It reported an "exodus from the shattered city".
Witness accounts, quake facts and photos were also splashed across the Sydney Morning Herald website's homepage, with "reports of buildings falling on buses".
The BBC headed its site with "New Zealand earthquake kills 65" and showed pictures of the destruction, of people being pulled from rubble and roads ripped apart.
The international news agency also had a breaking news banner on its homepage with a constant stream of updates.
The American news channel CNN featured the quake as breaking news under the heading "Deadly quake strikes New Zealand."
It reported that the quake "toppled buildings onto buses, buckled streets and damaged cathedrals".
The New York Times, on the front page of its website, carried the headline "Scores Killed in New Zealand Earthquake" with a picture of a crushed bus.
Britain's Guardian newspaper had live updates every minute on a news blog and flashed pictures of collapsed buildings.
"New Zealand city of Christchurch hit by 6.3 quake. At least 65 people confirmed to be dead. Hundreds feared trapped in collapsed buildings. Centre of city evacuated as aftershocks continue," it reported.
American news agency Fox News headlined its homepage with: "NZ leader says at least 65 killed in earthquake."
It said buildings were destroyed and hundreds of dazed, screaming and crying residents wandered through streets after the tremor.
"A powerful earthquake slammed New Zealand's already-bruised city of Christchurch on Tuesday, killing at least 65 people and sending rescuers scrambling to help people trapped under collapsed buildings," it said.
In the Asia and Pacific section of Arabic news site Al Jazeera, it was reported: "Quake rocks New Zealand city."
An image of injured and shaken Christchurch residents led the story, which said the death toll was expected to rise to an unknown number.
Samachar, an Indian news agency, reported: "Bodies lying around Christchurch after huge quake."
The news site used New Zealand news media in its coverage.
It made use of quotes from the Herald and images from TV3 of a man carrying an injured woman over his shoulders.