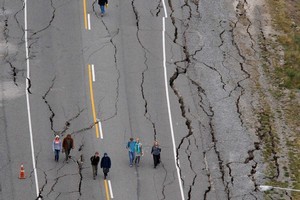 Residents of the town at the epicentre of today's devastating aftershock have told of terrifying ordeals as the ground crumbled around them.
Lyttelton residents Margaret and Fergus Lister had just emerged from a road access tunnel into the town when the 6.3 magnitude shock hit at 12:51pm.
They saw clay cliffs crumbling and rocks falling from hillsides around their car. Further down the road they found houses with collapsed roofs and destroyed bridges.
Mrs Lister said they headed home after seeing the devastation, only to find the roads into Lyttelton had been cut off.
The couple parked the car and walked over a hillside pass to find their house had escaped most of the widespread damage that had hit the town.
"We're just relieved. I'm glad we weren't in the tunnel when it happened.
"By the time we got back here we weren't sure what we'd be seeing.
We've got cracks and damage but thankfully our house is liveable."
Only a garage workshop where Mr Lister runs his business received major damage in the aftershock.
Mrs Lister said she felt lucky her husband was not in the garage at the time of the quake, as he could have been injured or killed.
Her daughter Rachel Lister was in the family's house when the 6.3 magnitude quake struck.
She spent a terrifying minute waiting out the shaking, before sheltering under a doorframe in fear of more aftershocks.
"I consider myself pretty staunch but I was a blithering wreck in the doorway for 20 minutes afterward.
"I have to admit I've never been that scared before. Every time an aftershock comes now we just leap for a door frame."
Once she had recovered, she ventured out to find her large areas of Lyttelton with major damage.
About five buildings were completely destroyed and old churches had lost large parts of their walls, she said.
A trained paramedic, she spent the afternoon helping out in the town's medical centre, treating mostly minor injuries.
"The worst one was a young man who had a hot water cylinder fall and tip its contents on him. He had some pretty serious burns. But we were lucky compared to Christchurch."
Ms Lister said the town is now banding together to help each other in the wake of each aftershock.
"Everyone is all helping out, going around to check on each other. The town is rallying."