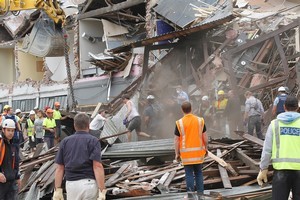 Dramatic tales of survival are beginning to emerge from today's devastating Christchurch earthquake.
Several people escaped from the Canterbury TV (CTV) building in Madras St, which was destroyred.
Pip Ramby was on the seventh floor of the CTV building when the magnitude 6.3 quake hit at 12.51pm.
"We were in a meeting in one of the corner rooms when the quake started and it wasn't long before it was phenomenally disorientating," she told Radio New Zealand.
"There were about 10 of us in the room and no way of really getting out the door and after that it was ... hard to tell what had happened.
"When it stopped and one of our number were able to look up, the building was near the ground. We were near the ground.
"We called out to people who were on the street watching and they came to help us out of the wreckage."
First out of the rubble was a baby and her mother, Ms Ranby said, paying tribute to the "incredibly brave rescuers".
Those in the room received only minor injuries but two other people working in the building had been injured, one critically.
The building itself was reduced to flames and rubble.
Meanwhile, a young father-of-three - with another baby on the way - said he thought of his loved ones as he awaited rescue in the same building.
Tupi Emery was trapped for five hours while his mother, Tania, stood in vigil outside the central city building, which was reduced from a seven-storey building to a burning pile of rubble.
He had gone to see a doctor on the fourth floor of the building, and his mother had just left when the quake struck at 12.51pm.
He texted her continually while he was trapped.
"Really, I thought he was gone," his mother said.
Mr Emery said he could hear other trapped people calling out for help.
"I was banging on the metal, yelling out 'help', because my voice was better than theirs," he told TVNZ's CloseUp.
He suffered cuts and burns and when asked how he was feeling, he replied: "Alive."
Mr Emery said thoughts of his loved ones kept him going during his ordeal.
"I just thank everyone that is out on the street today, and all over, that is helping others."
He said he planned to "live life to the fullest".
- NZPA