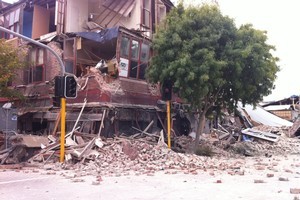 Herald reporter Fran O'Sullivan is in Christchurch for the United States-New Zealand Partnership Forum and was having lunch in the CBD with delegates at the time of the quake.
"When it occured it was very dramatic," she says, from the International Antarctic Centre where the delegates have been evacuated to.
"Suddenly we were absolutely thrown from our chairs. We dived under the tables, there was glass falling everywhere."
O'Sullivan says one of the delegates suffered a cut to his head, but all the delegates had been accounted for.
She met a woman in the city afterwards whose home had been destroyed and was concerned because she couldn't get to her medicine.
"She was just walking around dazed. People are completely shocked. The scene was just terrible."
Everyone was evacuated to outside of the CBD.
"This is terrible - [there has been a] serious loss of life."
The central city appeared to be the worst hit, she says.
"The damage to heritage buildings is quite bad this time.
"People I've spoken to today said the impact was much greater than last time. They are just shocked by it.
"I think there is a real issue whether people will stay on to rebuild because there is only so much you can take."