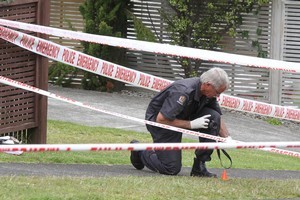 A man accused of murdering a Tauranga mother, who died trying to save her daughter, can now be named after a court imposed suppression order lapsed.
Tamati Mason, 41, is accused of murdering Sandra Brown, 59, and attempting to murder her daughter Kate Brown, 27.
Mason knew Kate from a training course at a marae they attended together.
He appeared in the Tauranga District Court yesterday charged with the murder and attempted murder of the two women in a house on a quiet suburban street. Name suppression for the man and the victims lapsed at midday.
Mason's lawyer, Craig Tuck, asked Judge Louis Bidois to call for a medical report to determine whether he was fit to plead. He also raised concerns about possible mental health issues.
Sandra Brown died trying to protect her daughter Kate from the man just after 5am on Sunday. Neighbours reported hearing screaming and glass smashing before emergency services converged on the scene.
The house was still cordoned off last night as police continued their scene examination.
A source close to the dead woman said the family were coping. Mrs Brown worked at a local childcare centre which will be closed this week because of her death. Last night, flowers and a memories book were laid outside in remembrance.
It is understood Mason attended a training course with Kate Brown at a local marae several years ago.
A marae spokesman said it was not appropriate to comment until the suppression order was lifted.
"They were students here, they did work together. But people here are still trying to come to grips with what has happened," he said.
The accused's landlord said he was a "quiet sort of a bloke".
"He was well spoken and looked after the place for me. Whenever I dealt with him I found him a decent sort of a guy."
The landlord said the accused had lived at the address for a few years.
"I don't know if he had a partner, but he's got children."