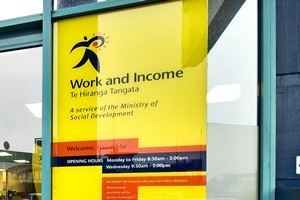 Prime Minister John Key says recommendations to send welfare mums back to work when their babies are only 14 weeks old are extreme, but he is open to work-testing beneficiaries when their youngest child turns three.
The Welfare Working Group's final report to be released this afternoon will focus on cutting the number of people on benefits by putting work obligations on them, in exchange for support such as childcare.
It has set what Mr Key called an "ambitious target" of getting 100,000 people off the benefit.
Mr Key said he was not comfortable with a recommendation to send parents on the domestic purposes benefit back to work when their babies were only 14 weeks old. The recommendation would apply only to children born when the mother was already on welfare.
"Personally I feel a bit queasy about that, I think that's a step too far," he told reporters.
However the idea of work-testing when the youngest child was aged three was more reasonable. The parent would only have to work 20 hours.
"That makes sense because it ties up with the Government's 20 free hours... I think that basically makes sense."
Mr Key said people on welfare were worse off than workers.
"Those in welfare have poorer social outcomes and very low levels of income, often defined as being in poverty, so to help those people let's see if we can help them get into work."
He said while some abused the welfare system the vast majority did not and the Government was focused on providing training and childcare to help get people into jobs.
"Most people want to work if they can."
The Government put off initial changes to welfare affecting parents because of the recession and high unemployment. There has not been a major improvement on those fronts but Mr Key said the focus was the long-term.
"Our expectations are that the employment markets will improve over time... you've got to take a long-term view of that."
He said changes would take a while to consider.
"I can't rule out that we won't do something this side of the election but it will take some time to flow through. Given the election is November 26, it's feeling more like implementation in further years post the election."
Social Development and Employment Minister Paula Bennett said she was keen to have a look at work-testing and New Zealand was out of sync with other countries.
However more had to be done to support people, like training and childcare.
"It feels at the moment all we do is pop a whole lot of people on to benefits, write them off to a lifetime of that, and not support them to get back to work."
- NZPA