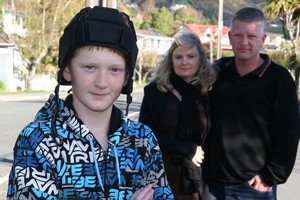 An Anglican minister is questioning police inaction against one of their own after his son was severely injured by a 4WD driven by an off-duty officer.
The policeman's vehicle hit Jeff Cotton's son, Joseph Cotton, then aged 11, after the boy got off a school bus in Atawhai, near Nelson, last August.
Joseph suffered critical head injuries - part of his skull had to be removed - a bruised lung, bleeding in his liver and other injuries.
He spent about three weeks in Wellington Hospital, and needs more treatment.
Police investigated and recommended no charges be laid against the driver. Investigators estimated the officer was driving at between 18 and 32km/h when the accident happened.
The speed limit for passing a stationary school bus is 20km/h.
Suggestions that the officer was talking on the cellphone at the time of the accident were dismissed by police as "schoolyard chatter".
Jeff Cotton asked how the off-duty officer could have been driving within the speed limit.
"Can we seriously say those injuries could have occurred by someone driving 20km/h past a school bus?
"I remember on the first night [after the accident], doctors saying, 'We are going to be honest here, [Joseph] has had a big hit'."
Nelson Bays police area commander Inspector Brian McGurk said an investigation by the serious crash unit had not recommended any action against the officer.
"There's certainly no evidence of any excess speed ... and certainly no evidence of carelessness. It's very, very clear it was a tragic accident."
When time and resources allowed, the investigation findings would be reviewed by another officer from outside the area.
Mr Cotton said he had heard little from the police in recent months, and the case seemed to have disappeared.
"Members of the public have said to me, 'What would have happened if you or I were driving that car?"'
He said Joseph was back at school, but would need surgery on his shoulder. "He hopes to play football this year, and I think he will."
Nelson-based Labour list MP Maryan Street, who has been acting as a "go-between" between the Cotton family and police, said she had viewed the police investigation file and had seen nothing to make her doubt the standard of the inquiry.