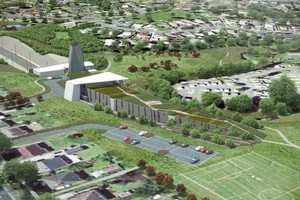 Transport Agency consultants are supporting calls to partly bury tunnel ventilation buildings for Auckland's Waterview motorway project, even though their client says that would be too costly.
Expert witnesses at a hearing into the agency's $1.68 billion proposal for a 4.5km motorway through Waterview also believe twin tunnels should be extended 70m southeast to soften the buildings' impact on the Mt Albert green belt.
That is despite an early statement to the hearing by agency highways manager Tommy Parker that he did not consider an extra cost of $12.9 million to be good value for money that could be better spent on some other transport project.
The present proposal includes widening the Northwestern Motorway from St Lukes to Te Atatu. The rest of a $2 billion funding allocation from the agency's board, which Mr Parker said followed a mid-range cost estimate, is for ultimately continuing the motorway widening to the end of the Northwestern.
Although the agency initially told residents it would bury the buildings in Alan Wood Reserve, where a new surface motorway section from Mt Roskill will disappear into twin tunnels for the remaining 2.5km to Waterview, it now wants to keep them above ground.
That has upset the Auckland Council, the Eden Albert Local Board and community groups, who have won support for the partly buried option from a succession of the agency's own consultants at the hearing, which is in recess this week after five days of sessions before a Government-appointed board of inquiry.
Their preference is to extend the tunnel portals away from a narrow chokepoint in the reserve, as a "cut-and-cover" structure into which the buildings would be largely inserted - although leaving some above ground with a 27m emissions stack.
The heights of that and a proposed 25m stack at the northern end of the tunnels in Waterview are also under review, with the Transport Agency indicating it would be prepared to reduce these to 15m if Auckland Council accepts a computer-modelling prediction that surface air quality would not be compromised.
Landscaping expert David Little said in written evidence to the hearing on Friday that a redesigned surface option, entailing a building sloping up to 7.1m through a length of 135m, would have significantly less impact on adjacent open space than a bulkier 9m structure proposed earlier.
But he said under cross-examination that without moving and partly burying the building, a loss of passive open space to the motorway project would not be mitigated.
That meant other mitigation measures would be needed for those residents whose homes will not be displaced by the project, such as a walking and cycling bridge for access to the green belt on the opposite side of New North Rd and the western railway line.
The agency has been opposing calls from the council and the local board for footbridges there and across Oakley Creek to the north, saying that because the motorway will be underground, there will be no need for surface mitigation.
Board member Ross Dunlop asked why the agency put concept designs for the three bridges, estimated to cost $2 million to $2.5 million each, to public consultation before taking them off the table.
Mr Little said that was because of community feedback indicating that mitigation money should be spent locally on buying replacement open space rather than being invested in a "network" approach of giving access to other existing recreational areas.
Proposed new open space includes new sports fields off Valonia St in Owairaka, a remodelled Waterview Reserve and an enlarged reserve off Saxon St in Waterview.
But the city council has opposed creating new sports fields in Waterview Reserve, next to ramps heading from the tunnels to the motorway, and has instead extracted an offer from the agency of funds to upgrade fields next to the Metro Mt Albert Sports Club in Phyllis Reserve.
Urban design expert Lynn Hancock similarly supported the partial burial option at Friday's session, although both she and Mr Little said they had made their assessments without consideration of the extra cost.
Waterview project consultation manager Amelia Linzey has also described the proposal as preferable from a "social" perspective, and landscape architect Stephen Brown told the hearing he was concerned about the effects of the above-ground proposal on homes in Hendon Ave.
BIG NUMBERS
$2b Total funding allocation for Transport Agency.
$1.68b Total cost for Waterview motorways project.
$12.9m Extra cost to partly bury twin Waterview tunnels.