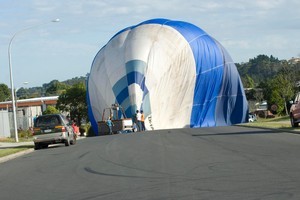 Love was in the air for a couple who got engaged during a romantic early morning hot air balloon ride above West Auckland yesterday.
Tri Huynh popped the question to Michelle Kit via a lightweight plane which circled the balloon towing the message, 'Michelle will you marry me?'.
"Our relationship started pretty excessively and I wanted to do something nice and excessive she would remember forever," said Mr Huynh.
While that went smoothly, the balloon, which was carrying eight people, was meant to land in a park but it had to make an "unscheduled" landing in a cul-de-sac off Swanson Rd. No one was hurt.
Di McKee, of Balloon Expedition, said her husband, who was operating the balloon, told her about the proposal.
"Apparently she [Ms Kit] didn't quite know how to take it straight away and was shaking."
Mrs McKee said the plane circled the balloon twice.
Mrs McKee described the engagement ring as "gorgeous" and said the couple were very excited.
Hot air balloon rides are a popular way for men to pop the question, she said.
"We've had quite a few here."
Resident Sundar Raj Reddy was woken by his dogs barking at the low-flying balloon and said he was alarmed at how it landed.
"It looked like it was over someone's roof at the time."
Mr Raj Reddy and his daughter chased the balloon to where it landed because "it looked like it was in trouble".
"It looked like it was coming down pretty quickly. I have never seen anything like that before."