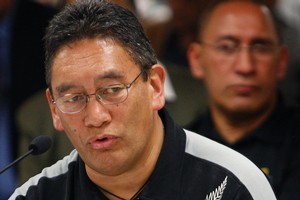 Discussions over MP Hone Harawira's future with the Maori Party are set to continue tomorrow, when a disciplinary committee meets.
Mr Harawira became the subject of a formal complaint by fellow MP Te Ururoa Flavell last month, after writing a column that said his party had become too caught up in its coalition with National and was supporting anti-Maori policies.
Since the column, he has continued to openly criticise the party, including its ongoing support for National's new seabed and foreshore legislation.
Mr Harawira today again used a column in a Sunday paper to express his opposition to the legislation.
He was suspended from the party's caucus earlier this month, with co-leaders Tariana Turia and Pita Sharples saying the caucus had no faith or confidence in him.
A disciplinary committee met in Wellington on February 9 to discuss the complaint, and adjourned so Mr Harawira could speak with his Tai Tokerau electorate that weekend.
The committee had hoped to resume the hearing last week, but the meeting was rescheduled for tomorrow.
Committee chairwoman Te Orohi Paul told NZPA the meeting would be held in Auckland at 1pm tomorrow.
She could not give more information about the hearing but earlier said either than it would be the same process as before and there would be no extensions.
Party president Pem Bird has said the Maori Party's national council would meet on Tuesday to discuss the results of the committee hearing.
Despite continuing to stand by his critical comments of his party's direction, Mr Harawira has maintained that he wants to stay in the party.
- NZPA