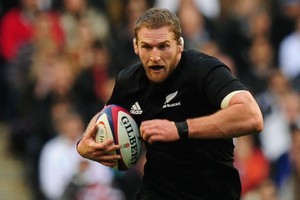 Who are New Zealand rugby's big earners? Gregor Paul details those thought to be the top 10 best paid and how that list might change after the world cup.
EXISTING CONTRACTS - 2011
1 Richie McCaw
Estimated Retainer: $750,000
There was an air of desperation in early 2008. The country was reeling from theWorld Cup disaster and senior figures were talking of leaving. The New Zealand Rugby Union wanted to make a definitive statement; showing they still had something to offer. McCaw was the man they had to lock in first. The skipper was revered by team-mates. The plan was to persuade McCaw to stay and then hope others would be tempted to follow suit, which is why the NZRU came up with an enormous package. His importance to the national team was impossible to overstate.
2 Dan Carter
Estimated Retainer: $750,000
The best first five in the world and the only genuine test-class No 10 in New Zealand, Carter is almost the sole reason the All Blacks have enjoyed a near 85 per cent win record in the last seven years. The All Blacks just aren't the same team without him - remember the early part of 2009 when he was injured?
If he had left at the end of 2008, as he would have if the sabbatical option hadn't been presented, the All Blacks would have been in real trouble. While the NZRU couldn't pay him as much as the likes of Perpignan or Toulon, they had to make the best offer they could - and drive the pay scale to a new level.
3 Mils Muliaina
Estimated Retainer: $550,000
There is always a misplaced confidence when it comes to outside backs; that a new star will be along in an instant so don't get attached to anyone in particular. Thankfully no one in administrative circles was so blase when it came to retaining Muliaina. At 28, as he was in 2008, the issue was whether he would still have the pace and explosive power to be an attacking threat in 2011.The All Black coaches had no doubts and their judgment proved astute, with Muliaina making the shortlist in 2010 for the IRB Player of the Year.
4 Rodney So'oialo
Estimated Retainer: $500,000
The fact So'oialo is lucky to get a start with Wellington these days is a sign of how quickly and how far he has fallen. In early 2008 he had several big overseas offers and the NZRU were decidedly nervous about losing him. His engine was purring and, with no other No 8 in the country pushing for test selection, the All Black coaches felt So'oialo was a player they had to retain. His experience, versatility and reliability were all worth a premium. The NZRU threw a wad of cash at So'oialo and then watched, slightly alarmed, as the old warrior ran out of gas and started to look like a club player.
5 Ali Williams
Estimated Retainer: $500,000
The All Blacks took three locks to the 2007 World Cup - one of whom was Chris Jack who headed to Saracens after the tournament and Keith Robinson retired. That left Ali Williams as the only senior lock in the country at the start of 2008. Brad Thorn's renaissance was only just beginning when Williams began contract extension talks; Anthony Boric was not starting at the Blues; Jason Eaton was still recovering from a serious knee injury and James Ryan was injured out of rugby. To have lost Williams would have left the All Blacks horribly exposed in a key department, so he was in a position of real strength.
6 Tony Woodcock
Estimated Retainer: $480,000
With Carl Hayman gone and Greg Somerville in talks to leave in 2008, Tony Woodcock was the pillar around which the All Blacks would build their 2011World Cup scrum. Woodcock was a proven test veteran, an aggressive and technically efficient scrummager who offered plenty around the field. At the time of signing his extension, there was no real rival for his jersey. His experience was invaluable and his new pay deal also had to factor the likely improvement that was still to come.
7 Kevin Mealamu
Estimated Retainer: $480,000
A hard-edged, tough ball carrier with great core skills and an unbreakable work ethic, Keven Mealamu's value has never been underestimated by the All Black coaches. His form in 2010 proved exactly why the selectors wanted to put some big money his way.
8 Andrew Hore
Estimated Retainer: $480,000
Much the same as Mealamu, Hore is exactly the kind of player the All Black coaches want in the trenches. There was little doubt he'd retain his form and fitness through to 2011 and, with him and Mealamu, there are two world-class options in a critical position.
9 Brad Thorn
Estimated Retainer: $450,000
Initially Brad Thorn wasn't wanted by Graham Henry in 2004. So when the big lock returned to New Zealand in 2008, few gave him any hope of re-igniting his test career. Yet, with only months until the tournament, Thorn is the only automatic choice at lock. He is the beating heart of the All Black pack and has been since June 2008. The NZRU had to up his pay massively when he extended his contract to stay on until 2011.
10 Joe Rokocoko
Estimated Retainer: $430,000
Negotiated a one-year extension last year when he was playing well and back in the All Black starting XV. Some might wonder why the NZRU paid so much to keep him when there are ample choices on the wing, but Rokocoko's experience comes at a premium. His CV is impressive and that demands top dollar.
There also had to be some compensation for the fact that his contract is only for one year. Other players thought to be on major contracts are: Conrad Smith, Ma'a Nonu, Sonny Bill Williams and Chris Jack.
TOP 10 IN 2012
1 Richie McCaw
Potential Value in 2012: $750,000
The skipper has made it clear his preference is to be here in 2012. Much will be made of his age and the battering he has taken in the last decade but his form only gets better; his captaincy, too. He's a better player now than he was in 2008, a better leader and his importance to the All Blacks in 2012 will be just as great as it was in 2008.
2 Dan Carter
Potential Value in 2012: $750,000
Maybe in 12 months one of the emerging first fives will be much improved; better prepared to "own" a test match. Still, best-case scenario, they will barely be a quarter of the player Carter already is.
New Zealanders get twitchy when players approach 30 but that's nonsense. Carter, who will turn 29 in a few weeks, could still have another five, maybe more good years in him.
His best weapon is his tactical appreciation, vision and kicking so, even if his running game should come under pressure from ageing legs, he'd still be able to dominate a test and make himself the central figure. Like McCaw, Carter's value hasn't diminished at all.
3 Kieran Read
Potential Value in 2012: $650,000
Read strikes everyone, including McCaw, as the next All Black captain. He is a world-class No 8 - something the All Blacks haven't had since Zinzan Brooke - and the kind of player that inspires his peers. He will, without question, be the man around whom the 2015 All Blacks are built. Expect him, like McCaw did under Tana Umaga's reign, to captain in a few lesser tests from 2012.
4 Sonny Bill Williams
Potential Value in 2012: $600,000
Demand for Sonny Bill will be high. Toulon want him back, as do plenty of other rugby clubs and the NRL is a serious option and, who knows with Williams, the AFL, the NRL or even the NBL could be where he ends up. But the noises from his team of advisers have so far been promising and the NZRU realise they have to get the chequebook out.
The national body insists Williams is not currently being paid over the odds and those in the know say he's not even in their top 10 earners. But that will have to change. Williams could be a sensational All Black; his off-loading potentially taking their game plan into unprecedented territory.
5 Ma'a Nonu
Potential Value in 2012: $550,000
There is an element of sympathy for Ma'a Nonu. He was the star of the Tri Nations and then pushed to one side once Williams joined the circus. Nonu, however, remains one of the best attacking midfielders in world rugby and a crucial part of the All Black mix. His combination with Conrad Smith is proven and reliable and there simply isn't any coach in the game who wouldn't want Nonu in their mix.
6 Conrad Smith
Potential Value in 2012: $500,000
The clear-thinking, organisational master of the backline relies on his distribution, speed of thought and anticipation, so should still be a force in his early 30s. He brings clarity, focus, direction and good judgment to a backline full of power runners. He'll have a senior role to play in 2012, especially if Carter leaves.
7 Jerome Kaino
Potential Value in 2012: $480,000
It's taken a while but finally Jerome Kaino has shown why this All Black panel has persevered with the Blues blindside. By the end of last year he was deemed by Graham Henry to be a world class operator. His ball carries are huge. His defence is relentless - accurate and hard-hitting and he has that desire to impose himself, to snarl and snap at opponents. His combination with Read and McCaw has the potential to be one of the best and, if Kaino were to head overseas in 2012, it would be painful to see a foreign club enjoy what will undoubtedly be his best years.
8 Owen Franks
Potential Value in 2012: $400,000
Now that the Hayman saga is finally over and everyone has made peace with the fact he's not coming home, Franks needs to feel the love. He looks a better prospect than Hayman anyway. He's just turned 23, is the strongest man ever to play for the All Blacks and has 22 test caps. Technically he's impressed and there is so much more to come. He could be frighteningly good in two years. His general play is also improving and the smart move would be to look after him and keep him here until at least 2015.
9 Sam Whitelock
Potential Value in 2012: $380,000
There is considerable excitement among the All Black coaches at the potential of Sam Whitelock. He is the new Ali Williams and even though he's just 21, he's likely to be the senior lock for much of the next four years. He has the physique and mentality of a lock, yet the skills of a loose forward. He gets stuck in, is fearless and doesn't want to be anywhere else other than in the thick of it.
10 Israel Dagg
Potential Value in 2012: $380,000
It took Dagg 20 minutes to prove he was born to play test football and with Muliaina almost certainly leaving after the World Cup, the No 15 jersey will be up for grabs. It will be Dagg's. He is going to be a massive international superstar which is what the All Blacks need. They require strike power in the back three coupled with pace and a touch of magic which is what Dagg brings.