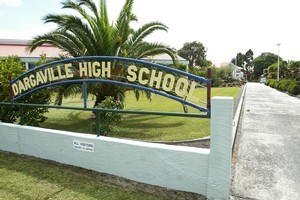 A Northland high school cancelled its sports day after a series of violent brawls among students.
Dargaville High School principal David Bargh said he canned Thursday's event to protect other students and staff.
A local police detective said officers were called to the school every day this week to deal with brawls that involved up to 70 students.
An alarmed parent, who did not want to be named, likened the problems to a "zoo with all the cage doors opened".
Bargh said one of the fights involved two boys with long-standing grudges, who had "got in each other's proximity" and the incident got out of hand.
Others involved fights between girls. All students were sent back to their form classes after the sports day was cancelled.
Many students not involved in the fighting were upset and some were in tears at not being able to continue with the sporting activities, said Bargh.
"Unfortunately, good kids had their day ruined through no fault of their own. Some had trained hard for the various competitions and the school is now in the position where we have not been able to decide our sporting champions."
Bargh said he did not know how, when or if the competitions would be held.
"I haven't got my head around it all yet - it's been awful. I really appreciate how the staff acted quickly and am sorry they had to endure that amount of stress."
The school planned an investigation and there were likely to be a number of stand-downs and suspensions. Two boys had already been referred to Youth Aid after Thursday's brawls.
There had been few fights on the school grounds this year, but Bargh was aware of incidents involving students in the town centre or near the school.
They were mostly the result of family vendettas boiling over between students, past students and other community members. Much of the agitation had been caused by new students trying to establish a pecking order. Detective Andrew Bailey said students involved in the fights would be dealt with harshly. He said he had visited the school every day this week for incidents relating to "kids scrapping in and around the school area".
He did not believe the fighting was gang-related.
For more articles from this region, go to Northern Advocate