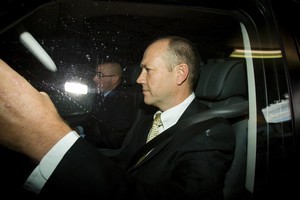 Mark Hotchin fronted on Close Up on Thursday night and NewsTalk ZB on Friday morning to apologise to out-of-pocket Hanover investors, to insist he was not living in the lap of luxury and to point the bone at Allied Farmers, who took over Hanover's loan assets in 2009.
They were plausible performances and it can't have been comfortable for him - especially in the hot seat at TVNZ, as a pre-interview video listed the failings of both the company and himself, and the screen behind him played and replayed the newspaper headlines charting the Hotchins' fall from grace.
Without access to the company records, it's hard to prove or disprove his claims.
He says both he and Eric Watson paid far more back to the company than they drew in dividends.
He says they were sold a dream by Allied Farmers and that Allied totally mismanaged his former company's loan assets by selling off the assets wholesale. That, he says, was in complete contrast to what the directors had told Hotchin they would do.
He said, they said.
I guess it's up to the Serious Fraud Office to make the final judgment on who's telling the truth.
But the motivation for fronting up to the media is interesting. Both Amanda Hotchin, in her emails to Edwards, and Mark Hotchin, in his interviews, stressed that they have been misrepresented.
Amanda, in particular, is adamant she didn't utter the famous Marie Antoinette-like quote: "We don't have to justify where we get our money from or what it is spent on to anyone. I don't care what anyone says."
Despite the fact that more than 50 finance companies have failed in the past five years, it was that comment, as reported by a doorstopping reporter in Hawaii, as well as the monument to excess being built on Paritai Drive, that ensured the Hotchins were public enemies numbers one and two.
Whether or not this is a PR exercise, whether or not he is genuinely remorseful, whether or not there was something nefarious about the way the company was run is neither here nor there for the investors who lost their shirts.
They believed the ads and the promises of guaranteed returns on investments and they've learnt a bitter lesson about empty promises.
But while sticks and stones may break bones, words can indeed hurt and it's the campaign of words in the media that appears to have prompted the Hotchins to fight back.
Amanda Hotchin chose well in her choice of blog to air her grievances. Brian Edwards may well be a hardbitten old pro, but he's also fair-minded and a sucker for a damsel in distress.
Whether Mark Hotchin is able to elicit the same level of support is debatable.
In the days when businessmen sold stuff, tangible goods, not drawings of apartments yet to be built and not promises of high returns, LV Martin was the standard bearer. He had a famous catchphrase, "it's the putting right that counts".
And until such time that Mark Hotchin is able to square things away with his hurt and angry investors, to put right the enormous losses - he'll have a hard job convincing them that he's a victim too.