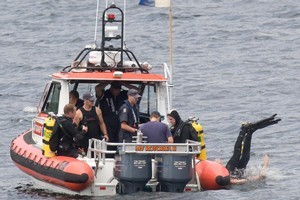 Two teenagers are facing charges over the death of their schoolmate in a jetski tragedy on Lake Okareka near Rotorua last month.
Bishop Thompson, 17, was hit by a jetski and disappeared under the water on January 8. His body was found five days later after an extensive search.
Police believe the incident happened after two jetskis collided.
Thompson was a passenger on a jetski driven by his uncle, Ricardo Maaka, 18, of Rotorua.
They believe it hit a jetski driven by his cousin, Ricardo Maaka, 18, of Rotorua.
Thompson fell into the water and was hit, police say, by a jetski driven by Teimana Harrison, 18, of Opotiki.
Harrison and Maaka are each facing a charge of operating a ship in a manner so as to cause unnecessary danger to any person or to property. The maximum penalty is 12 months in prison and/or a $10,000 fine.
All three boys attended Rotorua Boys' High School. Harrison and Thompson played on the school first XV and Bay of Plenty under-18 rugby team.
Thompson also played halfback for the national under-18 side.
His aunt Daphne Witoko said the family had held a meeting "to clear the air" with the boys involved at the family marae at Te Whaiti. They did not want the police to lay charges.
"The boys that were involved brought their parents and met Bishop's Nan and Koro (grandfather), his parents and brothers. They were a bit scared and were worrying what the family thought. They were blaming themselves," she said.
The family had assured them it did not hold any of the boys individually responsible for Thompson's death and would support them through the court process.
"We wanted to make sure they had our full support in whatever happens. It could have been any one of them that died," Witoko said.
The group had been jetskiing the day before on the same jetskis, which were owned by "friends of friends".
"Bishop was keen to get back on the jetskis so he was texting everyone to go back to the lake the next day. He had fallen off before but was able to get out of it. The second time, unfortunately, he got hit."
"Bishop's cousin was in front. He did a U-turn and Bishop's uncle did the same thing and Bishop fell off and his friend who was coming behind on a third jetski hit his head," Witoko said.
Thompson 's uncle jumped into the water to try to grab his nephew but was too late. None of them was wearing a lifejacket.
"It's all about education. They didn't know how powerful the jetskis were. They were being typical boys hooning around," she said.
Witoko believed a lifejacket and helmet could have saved Bishop's life.
Rotorua Detective Sergeant John Wilson said the two teens would appear in the Rotorua District Court on March 9.
Bay of Plenty harbour master Carl Magazinovich said the owners of the jetskis had been warned at Blue Lake and Lake Okareka in the weeks leading up to the crash about not wearing lifejackets.
Rotorua harbour master Ross Powell said it was a "needless" tragedy. "We have been drumming home the ... importance of wearing life jackets, but the message doesn't seem to be getting through," he said.