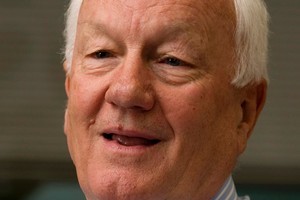 Act Party leader Rodney Hide has paid tribute to the party's founder Sir Roger Douglas after yesterday's announcement that he would retire from Parliament at the end of this term.
Mr Hide and party president Chris Simmons said there was no doubt that that few politicians have had such an influence on the direction of New Zealand as Sir Roger.
"As both a Labour and an Act MP Sir Roger has always challenged orthodox thinking, and in four and a half years in the mid-1980s he created the economic foundations that exist today.
"The impact Sir Roger has had on the New Zealand economy places him in a special position that few others can hope to emulate. His contribution is recognised by both his current and former colleagues, and by thought-leaders around the world."
Mr Hide and Mr Simmons said they would continue to call on Sir Roger's expertise.
"He is a great candidate recruiter, and we need his help and wisdom as we build the next generation of support for our party.
"We look forward to having Roger involved in our campaign this year generating enthusiasm and controversy, something he has done for over 40 years. After that we wish him well in his retirement and trust that he enjoys many joyful moments watching his grand-children play sport and grow up around him.
After making the announcement, Sir Roger said he planned to spend more time with family and possibly help his daughter with a natural medicines business as a dispatch clerk.
"I'll be 74 one week after the election and I had to think, did I really want to remain in Parliament beyond my 74th birthday, and I decided that wasn't a necessarily a good idea," he told NZPA.
"I'll probably coach my grandson with cricket. ... Maybe I'll go and work for my daughter. She has gone back to the old family business of natural medicines and I'm sure I could be the dispatch clerk," he said.
Sir Roger first entered Parliament in 1969 and became finance minister in the David Lange Labour-government in 1984.
During his time as minister, he become known for radical economic reforms before retiring in 1990. After 18 years, he returned to Parliament this term on the Act Party list.
Sir Roger found the last three years frustrating and said the Act Party was part of a coalition government without a lot of say.
"You look at where New Zealand is, we are not doing well ... and you think, 'I have some ideas to fix that', but you don't have the opportunity," Sir Roger said.
He said it was a troubling year for ACT, including David Garret's resignation and Heather Roy's demotion, but there was no point in dwelling.
"I think there is no doubt that Rodney (Hide) will win Epsom as things stand, and he'll take a number of MPs with him - the issue is how many.
"Even with five you don't have a lot of say. If you are going to be really effective you need to win eight or nine. There is a question mark given our polling to whether that's possible, but one week is a long time in politics," he said.
As for any regrets, Sir Roger said he would have liked to work more on social policy, including health, welfare, and education.
- NZPA