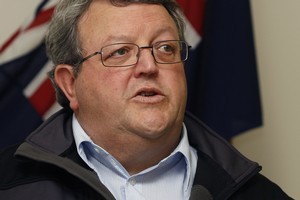 Cantabrians forced out of their earthquake-damaged homes are set to get financial assistance and help finding accommodation from the Government.
Earthquake Recovery Minister Gerry Brownlee this morning announced an assistance package for those displaced from their homes due to severe earthquake damage.
It includes financial assistance of up to $330 a week for families who have no insurance money and need to pay rent.
A "safety net" temporary accommodation service was also being set up for those who cannot secure rental properties while their homes are being repaired.
"The government has said all along we are committed to supporting the people of Canterbury during the recovery from this devastating earthquake and this announcement further delivers on that intention," Mr Brownlee said.
The temporary accommodation financial assistance is $180 a week for a one-person household, $275 a week for a two-person household and $330 a week for households of three or more people.
To qualify, homeowners must have exhausted any temporary accommodation allowance covered by their insurance.
They must be unable to live in their home while it is being repaired and intend to return once that work is complete.
Mr Brownlee said the assistance would not be subjected to any asset or means testing.
He said it was necessary to grant the assistance because of the scale and length of time it was expected to take to repair areas of Canterbury.
"There are a significant number of people in Canterbury who are, or will be, displaced from their homes for long periods as the rebuilding and repair of both houses and land takes place.
"Most people have six or 12 months of temporary accommodation cover under their insurance policy, but the size and scale of this event means the recovery process will take longer than that."
Mr Brownlee said the temporary accommodation service would maintain a list of available properties and would put homeowners in touch with landlords.
It was still possible to get financial assistance if earthquake-hit homeowners found their own temporary accommodation, he said.
"Cantabrians can apply for the temporary accommodation financial assistance from Monday."
The Canterbury earthquake has been ranked as the fourth most costly earthquake in history.
As at 17 February EQC had received 181,107 claims - nearly 30 times more than the 6,224 lodged after the 2007 Gisborne quake.
The Earthquake Commission (EQC) has paid out $740 million to claimants to date.
Government has committed to funding at least $140 million of additional land treatment works to ensure there is less damage from a similar earthquake in future.