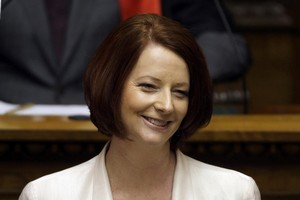 The speech in Parliament yesterday by Australian Prime Minister Julia Gillard brought lumps to the throats of many New Zealand MPs and some admitted to "tearing up" during it.
While Australia had alliances and friendships around the world, she said, "New Zealand alone is family".
It heavily referenced themes of shared military history, trade and tragedy.
She said the invitation to address the Parliament had honoured her and honoured her country.
Ms Gillard received a standing ovation from the floor and the galleries of Parliament which were filled with present and former public sector heads, politicians and diplomats.
She was applauded during her speech when she said Australia abided by the decision of the "global umpire" and would implement the World Trade Organisationruling to allow New Zealand apples into Australia.
National's Auckland Central MP, Nikki Kaye, said it was a speech of great substance.
"I actually was a bit teary for a few moments, particularly when she talked about Pike River and the Queensland floods."
Labour's Palmerston North MP, Iain Lees-Galloway, said it was "fantastic".
"I thought there was a really genuine warmth and affection and it made me feel like a mate, like we are all mates of Australia."
National's Taranaki-King Country MP, Shane Ardern, said he had initially been concerned about the precedent of Ms Gillard speaking in the debating chamber "but those fears soon disappeared the moment she started to speak".
He had been pleasantly surprised at how "warm and deep" the speech was. "It made me feel very proud to be part of a historic moment."
Ms Gillard agreed to restore annual bilateral transtasman talks that predecessor Kevin Rudd let slide.
In bilateral talks yesterday, she and Prime Minister John Key agreed to start a joint study this month to improve transtasman travel.
Ms Gillard said it would examine "how we create a truly 'domestic-like' aviation experience".
The study is the responsibility of Customs Minister Maurice Williamson but his officials could provide no more details yesterday, and nor could the Prime Minister's office.
Before laying a wreath at the National War Memorial, Ms Gillard presented former Cabinet minister Hugh Templeton, architect of the 1983 Closer Economic Relations agreement, with the insignia of an honorary officer of the Order of Australia.
In his thank-you speech, Mr Templeton called on Ms Gillard to use the Anzac centennial in 2015 to complete "unfinished history" by creating a customs union, a common market and a common currency.
EXTRACT FROM SPEECH
"Our founders could not have imagined the extraordinary events that would bring our nations far closer than any words or any laws.
Not forged in meeting rooms by old men wearing suits.
But by young men in trenches wearing slouch hats and lemon squeezers.
That is why I say Australia has many alliances and friendships around the world.
Economic and defence partnerships of every kind.
But New Zealand alone is family.
When those 29 men never came home from the Pike River mine, we didn't just mourn for the two Australians.
We mourned for them all. Family.
When Pike River exploded, New Zealand didn't have to ask Australia to send help.
We just did.
And when natural disasters hit Australia this summer, New Zealand didn't need to be asked to lend a hand.
You just did.
And our gratitude is boundless."