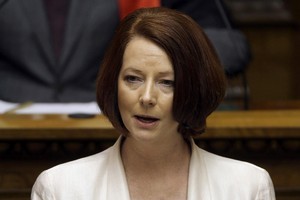 Too often Australian prime ministers have seemed to treat transtasman summits as a nuisance, albeit a necessary one.
Having duly patted his or her New Zealand counterpart on the head in paternalistic fashion, the Lucky Country's premier then traditionally hightails it back to Canberra as soon and as fast as diplomatic decorum allows.
That accusation cannot be levelled at Julia Gillard. From the moment she stepped off her plane in Auckland on Tuesday afternoon and made the effort to gargle that strangled-sounding "kia ora", it was apparent that this Australian Prime Minister was not merely going through the motions.
"Impressive" was the adjective flowing from most lips following her speech to MPs in Parliament's debating chamber and what is understood to have been a highly professional, logical and crystal-clear presentation earlier to ministers behind the closed doors of the Cabinet room.
Gone was the tense, uptight, over-rehearsed and rather manufactured character who confronts New Zealand viewers of Australia's Sky News most nights.
She looked and sounded a very different creature, one who was relaxed and natural.
That this was the first visit to New Zealand in four years by an Australian premier said a lot about the attitude of her predecessor, Kevin Rudd, to crossing the Ditch. That Gillard has reinstated annual pow-wows says a lot about what she thought of Rudd's stance.
That announcement indicates that Canberra is serious about restoring relations with Wellington to the highest level. As one well-placed Government source put it, Gillard had clearly come here "to do the business".
It is not the case that the relationship overall is anything but rock solid. The respective foreign, defence and trade ministers are in constant contact regarding matters of mutual interest and concern.
However, something has been missing higher up the chain of command.
That something was supplied by Gillard's repeated mentions of "mateship". Her debating chamber speech - chocker with references to the "Anzac bond", "the imperishable transtasman bond", and Australia and New Zealand being "family" - was at times lump-in-the-throat material.
Her working of that theme was helped by recent events - the Queensland floods, the Pike River mine explosion and Cyclone Yasi. She was profuse in her thanks for New Zealand's help through Australia's "summer of hardship".
It was a dreadful coincidence, but yesterday's ghastly road accident in Afghanistan simply underlined the high price both countries keep paying for what Gillard and John Key still maintain is a very necessary war in the training ground of world terrorism.
Such highly charged pleas to the heart might have worn thin had they not been accompanied by a cool, hard play to the head, however.
Her announcement that Australia will accept the latest World Trade Organisation ruling and finally allow New Zealand apples into the Australian market - thereby ending a near century-long ban - was a master-stroke in its timing and symbolism.
It could be argued that Australia had already lost the argument, having exhausted its appeal rights. Gillard was only confirming the inevitable.
But bringing closure to an issue which has caused such friction in the relationship for so long meant her references to "mateship" was more than emotional-sounding mush.
It actually meant something.