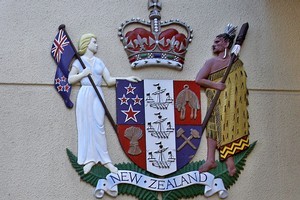 A teenage girl who drove a van that crashed and killed two men while she was more than three times the legal drink drive limit has avoided a jail term.
Tuoho Marire Ta Moko Tini Christy, 17, was sentenced in the High Court in Napier today to 10 months home detention, 300 hours community work and disqualified from holding a driver's licence for seven years after admitting two charges of manslaughter last week.
Christy, then 16, was behind the wheel of a van with six passengers which crashed into an oncoming car before landing upside down on a bridge railing on the Napier-Hastings expressway following a party on October 31, 2009.
Max Harman and Robert Waikari were flung into the Tutaekuri River and killed. Four others were admitted to hospital.
Christy had held a learner's licence for just over five weeks and was not allowed to carry passengers or drink. Her blood alcohol reading was 105mg of alcohol per 100ml of blood.
The legal limit for drivers under 20 is 30mg.
Justice Ronald Young told Christy her decision to drive was stupid and she could have faced a five-year jail term if she was an adult.
Christy had initially denied the manslaughter charges but changed her plea to guilty during her trial last week.
Crown prosecutor Clayton Walker said during the trial that the group had driven Waikari's Ford Econovan to a party in Taradale, Hastings, without plans for getting home.
"No sober driver had been arranged to drive them home, so they had a problem. They decided amongst them who should drive home, in other words, who was the most sober."
Christy's boyfriend Ryker Wainohu had told the court that he and others pressured Christy to drive.
"We all pretty much made the decision that Ta hadn't been drinking, if anything, so she should drive," he said.
- NZPA