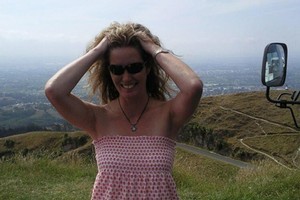 A popular Bay of Plenty teacher is being mourned by her students and family after drowning at Whiritoa on the Coromandel Peninsula.
Sarah Nicholson, a teacher at John Paul College in Rotorua, was with two students when she was believed to have been caught in a rip on Sunday.
John Paul College principal Patrick Walsh said the death was tragic and a devastating loss for the school community.
"I am not sure of the circumstances," Mr Walsh said.
He said the two students who were there at the time had been left traumatised and devastated.
Mr Walsh said several staff and students were struggling to come to terms with the loss of a popular teacher.
"She was a highly valued colleague and a fantastic teacher," he said.
Miss Nicholson lived in Tauranga and commuted to work.
Mr Walsh said a prayer service was held for staff on Monday morning before an assembly and a prayer service was held for students and staff. He said the students and staff were all being offered counselling to help them come to terms with what had happened.
"We will also be closing the school on the day of the funeral as a mark of respect."
Miss Nicholson was a Year 11 form teacher and taught science and biology. Mr Walsh said she was also very involved with netball at the school.
He said she had been a teacher at the school for five years.
She would be missed sorely and her death had left a big hole in the school community.
Her classes were being taken by other teachers at the school rather than relief teachers.
"We think it is best for them to have teachers that they know."
Students have set up a tribute page for Miss Nicholson on social networking website Facebook.
The page, titled "R.I.P. Miss Nicholson. Gone, but never forgotten" has already received several comments about the popular teacher.
The information about the page reads: "Miss Nicholson was an inspiration to us all."
"She once commented on how much she loved teaching, and that she lived solely to teach."
"Her passion for biology was simply something else."
"She was a netball enthusiast and all who played loved her bright and bubbly personality."
Under personal interests it stated: "Netball, being the best teacher ever."
Comments on the tribute page include: "You've been the only teacher that helped me get so many high marks in science."
"You were such an asset to jpc. You're in god's hands now. You'll never be forgotten miss nicholson :("
"You were the best teacher! Best times in science and would do anything to help anyone. you will so so be missed! :("
"The best teacher. such a sad day, you'll be missed by so many, Rest in peace miss xxx"
"U were an amazing science teacher and netball coach. :( R.I.P"
"Goodbye to our beautiful teacher and netball coach. We'll never forget you. There's one more star in the sky."
Miss Nicholson's family declined to talk. The incident is being investigated by Whangamata police.
DEATH TOLL
* The national drowning toll for all ages so far this year is 28, compared with 86 for all of last year.
* Six preschoolers have drowned so far this year - equalling the total for 2010.
* There were 19 drowning deaths in New Zealand during January.
- APN