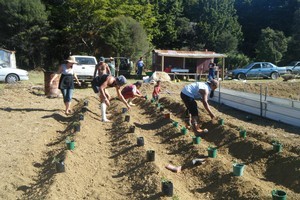 The organisation that ran a $317,000 Government-funded programme to make a vegetable garden says it produced much more than just a solitary pumpkin.
The pumpkin has become a political football as Labour challenged the Government over the scheme in the House yesterday, while Opposition leader Phil Goff joked that he thought the programme "was a bit of a lemon, but it turned out to be a pumpkin".
During question time, Labour MP Jacinda Ardern pulled out a pumpkin and waved it provocatively in front of the Government benches, while criticising a project that yielded "just one pumpkin".
The site of the programme, run by Social Development Services in the Far North, was visited by 3 News this week and shown to be an overgrown 1.6ha garden where only a single pumpkin remained.
But services manager Missy Peterson sent the Herald a number of photos showing a thriving vegetable garden, and some of the 24 young people working during the development stages.
"We had tomatoes, we had bok choy, we had cabbages, we had onions, we had carrots. [The produce] went out to the local community," Ms Peterson said.
"The programme was for 26 weeks and finished in July. By the time the reporter turned up last week, it was all gone. And of course with the weather conditions up here, it doesn't make it viable to replant at this time."
Ms Peterson said after the programme finished, the community was invited to use the garden, but flooding had destroyed those crops and people did not want to replant until conditions were better later in the year.
The programme was part of Community Max, a Government strategy to help young people gain skills and jobs that benefit the environment and the community.
Deputy Prime Minister Bill English said while not all people in Community Max went into jobs afterwards, they gained skills and confidence and it was better than leaving them "on the scrap heap".
"It is certainly legitimate to be asking questions about whether [the schemes] work. Of course the alternative is not doing anything and that could be more damaging for young people." But he did not commit to future funding.
"We need to make sure they [the schemes] have actually been effective."
Ministry of Social Development deputy chief executive Debbie Power said 70 per cent of those on Community Max were no longer on a benefit.
The scheme cost $57.3 million, most spent on subsidising wages for 4500 participants and 1000 supervisors over 807 projects.