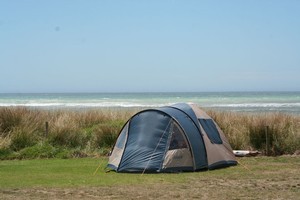 An all night party at a Marlborough Sounds camping ground by youths revving their vehicles and playing loud music through the night was the final straw for an engineer who threw human faeces into their car, a court has been told.
Andrew Francis Carman, 58, a GNS Science assistant engineer from Wellington, was fined $500 and ordered to pay $650 to the victim in Blenheim District Court yesterday, after he admitted charges of offensive behaviour and wilful damage, the Marlborough Express reported.
Police withdrew a charge of unlawfully interfering with a motor vehicle.
Carman, his twin sister and an associate were camping at Cowshed Bay in Portage on November 27 last year when he went to confront a group of campers at 6am following a loud 12-hour party.
He noticed a pile of human excrement and used a nearby spade to put the faeces through the partly open front passenger window of a Toyota ute and into an open handbag, police told the court.
The ute's owner later confronted Carman, punched him unconscious and kicked him in the head. He suffered extensive injuries including a broken clavicle.
Carman later apologised for his actions.
He was fined $250 on each charge, ordered to pay court costs and $650 reparation to the victim.
Lance James Mackel, 20, of Blenheim, admitted assaulting Carman with intent to injure and will be sentenced on March 21.
- NZPA