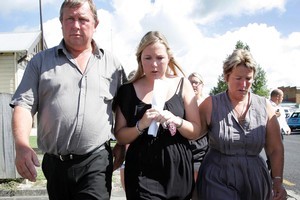 One after another came the grim messages of despair, heartbreak, loss and nightmares as the families of three cyclists killed in a Waikato road accident relived their horror.
All the while, a shattered Kristy King sat quietly sobbing in the dock.
The 23-year-old appeared in the Morrinsville District Court yesterday for sentencing after she pleaded guilty to three counts of careless driving, causing the deaths of cyclists Wilhelm Alois Muller, Mark Andrew Fergusson and Kay Wolfe in November.
She sat with her head bowed as six family members and a close friend of the three victims spoke of their loss, including Mark Fergusson's mother, Sonia Fergusson, who told the court how she saw her son lying in his casket at his funeral with bruises and grazes.
She said no parent should ever have to sing the 23rd Psalm over their child's body. "You have no idea what you have done to Mark's father and I, taking away our youngest son and a great friend," she said.
"You have broken our hearts. You are alive and your family have you ... all Mark's father and I will have are memories."
Mark Fergusson's partner, Rachael Dohrman, said she had lost her soul mate.
"We had five years together ... we were going to grow old together. I don't know how to rebuild my life, all I know is my life will never be the same."
Gavin Wolfe, son of Kay Wolfe, who was among the group of cyclists that day, said he had suffered recurring nightmares since the accident. He said the scene resembled something from the movie Blackhawk Down.
One of his friends lay on the ground with his leg ripped off. He found his mother, her arm nearly severed, having broken nearly every bone in her body, and felt totally helpless because her injuries were so severe.
"Then, when I had a shower I found little pieces of someone's body on me.
"This will haunt me for the rest of my life," he said.
Judge Arthur Tompkins sentenced King to 300 hours' community work, disqualified her from driving for a year and ordered her to pay reparation of $10,000 to each of the families.
King's lawyer, Paul Gascoigne, said she had accepted responsibility for the crash and at a restorative justice meeting she had told the victims' families that young drivers needed better training.
"She said 'my message is the same as the Wolfes' and that is that if there could be a law change about improving driving training so this can never happen to anyone else ever again."'
Earlier, the court heard how King failed to take a moderate right-hand bend about 12km south of Morrinsville.
The cyclists, who were riding single file in a group of 10, tried to take evasive action as King's car slid about 36m across the road into their path.
Judge Arthur Tompkins said the deaths were extraordinarily tragic.
But in terms of previous court decisions relating to this kind of offending King's mistake could be categorised as "at the lower end of the scale". He said speed was not a factor in the crash. He also took into account her early guilty plea and the fact she had not been drinking or using a cellphone at the time.
He said the maximum penalty that could be imposed was three months in jail and disqualification from driving.
As she left the court, King quietly shook her head and looked at the ground when asked if she had anything to say.
She has vowed to never drive again.