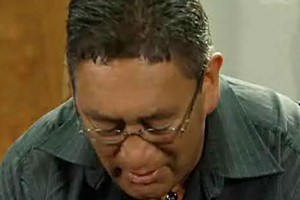 Discussions over Hone Harawira's future with the Maori Party are set to continue next week, with a disciplinary committee to resume next Monday.
Mr Harawira became the subject of a formal complaint by fellow MP Te Ururoa Flavell last month, after writing a column that said his party had become too caught up in its coalition with National and was supporting anti-Maori policies.
Since the column, he has continued to openly criticise the party, including its ongoing support for National's new seabed and foreshore legislation.
He was suspended from the party's caucus last week, with co-leaders Tariana Turia and Pita Sharples saying the caucus had no faith or confidence in him.
A disciplinary committee met in Wellington on Wednesday to discuss the complaint, and adjourned so Mr Harawira could speak with his Te Tai Tokerau electorate on Friday and Saturday.
The committee had hoped to resume the hearing early this week, but party president Pem Bird this morning said the hearing would continue on Monday next week.
"The information I have is that it will be in the Tamaki Makaurau electorate in Auckland, but at the moment there are no details about it," he said.
"It will be the same process as before ... there should be no other extension."
Mr Harawira had agreed to attend the meeting.
The Maori Party's national council would be meeting the following day to discuss the results of the committee hearing, Mr Bird said.
Meanwhile, Te Tai Tokerau electorate chairwoman Lisa McNab said Mr Harawira's five-branch tour of the area had shown that 95 per cent of people wanted him to stay in the party.
"They also reaffirmed their support for his opposition to the Marine and Coastal Areas Bill, and supported the proposal that Government repeal the 2004 Foreshore and Seabed Act, and put a two-year moratorium on all foreshore development to enable Maori to develop a better plan," Ms McNab said.
"We had hoped to be able to give our MP a message that we would be ready to meet with the council this Tuesday, but it became clear that there were still a number of other issues that needed to be clarified before a formal response could be communicated to the council from both the electorate and our MP."
Despite continuing to stand by his critical comments of his party's direction, Mr Harawira has maintained that he wants to stay in the party.
In an interview on TVNZ's Marae Investigates yesterday, Mr Harawira also reaffirmed his desire to stay in the party.
"I know I can provide true Te Tai Tokerau representation whether I'm in the party or outside the party. Being outside the party's not something I'm currently contemplating," he said.
"I'm having difficulties with my colleagues and hopefully we can come to terms with that."
- NZPA