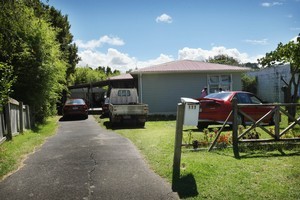 A 13-month-old girl run over in her west Auckland driveway died despite the frantic efforts of family members who rushed her to hospital without waiting for an ambulance.
The death is the latest in a string of similar tragedies and sparked renewed calls for drivers to be vigilant around driveways.
Neighbours in Riverpark Cres, Henderson, said they heard loud screaming after the girl was run over by a family member about midday on Saturday.
"It was wailing. You could just tell it was something bad," said one.
The girl's family quickly put her in a van and rushed her to hospital, but staff there were unable to save her.
Police officers later visited the scene of the accident, and the serious crash unit is investigating.
Detective Sergeant Megan Goldie said the family were taking it hard. "They just can't understand how it's happened.
Just the whole ... the loss, you know, it's impossible to sort of understand it, really."
The neighbour said a lot of children lived at the house and whenever she reversed out of her driveway, she had to watch out for them riding their bikes.
Another neighbour said the children often played on the driveway and she had previously seen a toddler in nappies standing alone near the road.
Family members at the Henderson home declined to comment yesterday. A man sat outside with a young child while other children played on the trampoline.
Safekids New Zealand director Ann Weaver said the risk of such accidents increased over summer because the warmer temperatures meant there were more children playing outside.
"It means people need to be extra vigilant around cars and kids. We all know they don't mix, and it's really important to know where they are before you get into the car and before you reverse."
Ms Weaver said five children usually died each year after being run over on driveways but this summer there had been a horror run of accidents - about nine deaths in recent months.
New Zealand's driveway death record is the highest in the OECD.
"It's been particularly bad ... You can forget how quickly little ones move.
"You might have thought the child was inside and with an adult but by the time you get into the car and can't see them, that's when incidents happen."
Safekids had three key messages: always check where children are, supervise them playing and, if possible, separate the playing area from the driveway.
According to Safekids, a child is admitted to hospital with serious injuries from a driveway accident every two weeks on average.
Most children hurt in such incidents are toddlers, aged about 2 years old, and when death does not occur, the injuries they receive are often severe. The driver is usually a close family member.
Last year, Safekids examined 93 cases of children being injured or killed in their driveway.
The study found 43 per cent of victims were Pacific Islanders and 25 per cent Maori.
Eighty per cent of the accidents occurred in the child's home, most accidents happened between 4pm and 7pm, 43 per cent occurred in summer and, in 64 per cent of cases, the driveway was the child's usual play area.
One of the researchers, Dr Clinton Newbury, said even vigilant parents were likely to have a small lapse in concentration eventually.
"There's always going to be a break-down in vigilance, so you need to have the environment as safe as possible right from the start."