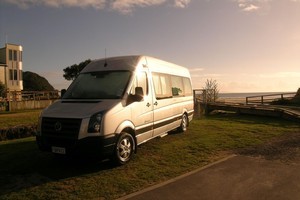 So-called freedom campers could soon face hefty fines for setting up camp in areas without adequate toilet facilities, with locals sick and tired of the rubbish and human waste left by the budget-conscious travellers.
Local Government New Zealand (LGNZ) is working with the Department of Internal Affairs to try and come up with a solution to the mounting problem ahead of the Rugby World Cup in September and October, when the number of tourists travelling around the country is expected to soar.
LGNZ president Lawrence Yule said areas around the South Island's lakes were probably the worst affected, with people in search of privacy and a night or two's free camping in the great outdoors leaving piles of rubbish and defecating in the pristine surrounds.
Some areas, such as the Hawke's Bay, encouraged freedom camping because facilities were abundant and it didn't cause any problems, he said.
"If you've got a toilet and rubbish bins then it's fine, but a lot of freedom campers find a little clearing by a lake where there's no facilities whatsoever where they just park up because they want to be separate from people and use it as their toilet.
"They wouldn't do it in their homes but they seem to want to do it here."
LGNZ wanted legislation which would give council's the option of imposing instant fines on the culprits, and was looking at ways to educate travellers about the rules.
- NZPA