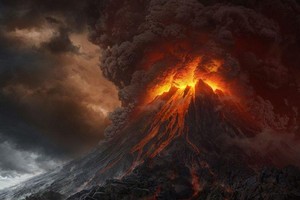 The stark cone of Mt Ngauruhoe played a leading role in Peter Jackson's Lord of the Rings trilogy, featuring as a smouldering Mt Doom.
Now, only five weeks out from the scheduled start of filming for The Hobbit prequel, local Maori are set to put their foot down and refuse permission for the Oscar-winning director to use the central North Island mountains again. The iwi considered them sacred.
In The Hobbit, Bilbo Baggins and his entourage journey through the Misty Mountains on their way to confront the dragon Smaug at the Lonely Mountain.
Without the option of using the central North Island mountains, the moviemakers could instead fall back on Mt Taranaki and the Southern Alps. Location scouts have visited Taranaki, and Jackson is said to have flown into Queenstown recently to inspect the mountain-ringed Lake Wanaka.
The movie has suffered several setbacks and the so-called "Curse of the Hobbit" led actor Martin Freeman to joke about the delays this week: "There are some bits of bad luck associated with it. We're ready to go - just as soon as 2015 comes around."
The film production company has publicly confirmed only two filming locations: the Stone Street studios in Wellington, and Hobbiton in the Waikato town of Matamata.
But the Department of Conservation says it has also received an application to film at the Aratiatia Rapids, above Taupo's Huka Falls. The rapids could feature as the Forest River, which Bilbo and his dwarf friends floated down on wine barrels to escape the elves of Mirkwood. Location scouts have also visited Wanaka, Taranaki and the Ruapehu district.
* * *
Hobbiton consent
Peter Jackson's production company has been allowed to divert water from a Waikato stream to create the lush green pastures of Middle Earth - in the middle of a hot New Zealand summer.
Environment Waikato, the regional council, has granted consent for 3foot7 Ltd to take up to 890cu m of water a day from a lake and stream in the Hinuera Valley, near Matamata.
It will be used to irrigate 4ha of land planted on the Hobbiton set - the home from which Bilbo Baggins will set out on his quest in The Hobbit.
This will give a rich green appearance to Hobbiton, reminiscent of Tolkien's beloved English countryside.