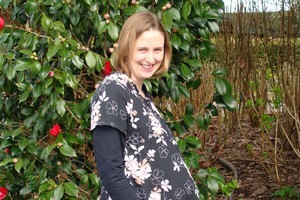 As midwives, doctors and lawyers pore over the details of how baby Adam Barlow died at birth, his parents are quietly reliving their most horrific and painful memory.
Adam died in October 2009 after a prolonged delivery at a Hamilton birthing centre and then at Waikato Hospital went wrong.
He was declared stillborn but a coronial inquest was ordered after his parents Linda and Robert Barlow read medical notes indicating their son had shown signs of life.
The Barlows say the inexperience of the 23-year-old midwife, Jennifer Rowan, who had been a midwife for less than a year at the time, was a major factor in the death.
They want midwifery guidelines changed to ensure the proper supervision of all new graduates.
While giving evidence at the Hamilton Coroner's Court this week, Mrs Barlow said her experience in which she lost Adam, suffered a cardiac arrest, a partial stroke requiring 54 units of blood and a hysterectomy was "absolutely horrendous".
"We are doing this to prevent it from happening to anyone else," she told the court.
Throughout the inquest the Barlows have sat with a number of supporters in dignified silence, occasionally hugging some of the 25 witnesses who have been or will be heard.
Mr Barlow, who this week tearfully testified how he feared his wife would die during her labour, could be seen shaking his head in disbelief at some of the evidence, including that of Colleen Hugill, the midwife who withdrew from caring for Mrs Barlow 36 weeks into her pregnancy because of "a personal illness".
Coroner Gordon Matenga ruled that the details of Ms Hugill's illness cannot be made public.
But Ms Hugill - when asked how she was able to help Ms Rowan identify her strengths and weaknesses - said that "by law" Ms Rowan was "able to practise anything without a mentor".
"We are not supervisors, we are there on their request when they feel they need it. People learn better if they do it themselves.
"Jen seemed very competent while she worked as a student. At no time did she say, 'I don't understand'."
Mr Matenga later asked Ms Hugill if anything from the mentoring programme for midwives could be improved.
She said that once graduates had completed their training they were good enough. "I don't believe that new graduates or anyone who has just finished the programme does not have that knowledge."
Asked if she would be comfortable with a newly qualified doctor performing open-heart surgery, she replied: "If they were qualified, I believe they would be."