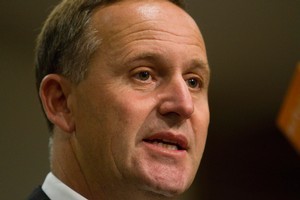 Prime Minister John Key says he will look into whether the Government can do anything more to assist efforts to recover the remains of the 29 Pike River mine workers.
But he told families of the dead workers yesterday that he did not believe it was likely, when recovery of the remains continued to be improbable.
Mr Key met the families in Greymouth a day after their meeting with Opposition leader Phil Goff, and had what was described as a very "constructive and cordial" discussion.
Police recently announced they were pulling out of responsibility for the mine and efforts to recover the remains of the men killed in a series of explosions last November.
The receivers for Pike River Coal are taking over from police with a view to exploring whether the mine can reopen and return to business, keeping alive hopes of finding remains.
"It's fair to say [the families] teased out the idea of what would happen if the receivers ran out of money but the Mines Rescue team believed recovery was still possible," Mr Key told the Herald.
"I indicated it was probably an unlikely scenario, but that I would seek some advice on that."
It was not an issue of money, but whether it was feasible to recover remains of the dead workers, he said.
The families were "not unrealistic" about the challenges faced in any recovery operation.
The families' spokesman, Bernie Monk, could not be reached for comment yesterday .
A royal commission of inquiry into the deaths of the 29 men is due to begin with a preliminary hearing in Greymouth on March 11. Expressions of interest are being called for from those who wish to take part.