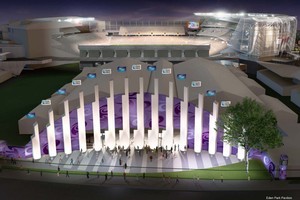 Eden Park's trust board has applied for fast-track planning approval for more temporary stadium seating than initially proposed for the Rugby World Cup, and for a $10 million hospitality pavilion.
It also wants approval from the Rugby World Cup Authority for fireworks displays during an opening ceremony on September 19 before the first match of the tournament - between the All Blacks and Tonga - and at the close of festivities on October 23.
The trust board already has consent for 10,000 temporary seats to push the stadium's capacity to 60,000 under its $256 million upgrade, but now says it needs 2000 more for the nine cup games to be played at Eden Park.
That is to make up for a large number of existing seats where views will be "killed" by structures such as platforms for 24 television cameras, as well as about 100 from which most of a try line and a good chunk of the field have already been found to be obscured.
A section of the stadium's west stand will also be taken up by a temporary media centre with 200 work spaces, and a second area on the southeast corner of the ground will provide room for 90 photographers among a contingent of about 1500 journalists expected to be accredited for the tournament.
Up to 650 broadcasting staff are expected at the stadium for key games.
The temporary pavilion will comprise three double-storey marquees on the stadium's number two ground off Sandringham Rd, which will cater for 5000 well-heeled spectators who will be fed and feted under hospitality packages starting at $995 for pool matches and rising to $10,995 for the semifinals and cup final.
The British-based Rugby Travel and Hospitality organisation intends importing the marquees from Europe and will spend four months from May erecting them and a flag-topped facade facing Sandringham Rd which will be 50m long and up to 18m high.
They will be dismantled and removed in the five weeks after the tournament to allow the return of cricket matches and permanent landscaping promised as part of a "legacy" for the stadium and its neighbours.
The board initially applied to the Auckland Council for the consents, but transferred proceedings to the Rugby World Cup Authority after becoming nervous about the likely time it would take to receive approvals under the Resource Management Act.
In its new application, it says that without the fast-track provisions of the Rugby World Cup 2011 Empowering Act, it would be unlikely to receive approvals to build the temporary facilities in time for the tournament's September kick-off.
That provoked criticism yesterday from Eden Park Neighbours' Association president Mark Donnelly, who said the pavilion proposal had been known about since June, yet the board waited until November to lodge its applications with the Auckland Council.
"It sat on its hands and is now using the draconian powers of this empowering act," he said.
"It reeks of incompetence."
MAKING UP FOR LOST VIEWS
* Eden Park's trust board says it needs 2000 more temporary seats. This is to make up for the seats that have obstructed views.
* Fast-track planning approval has been applied for these.
* The current upgrade is costing $256 million.
* A $10 million pavilion is also to be built for 5000 spectators who have hospitality packages.