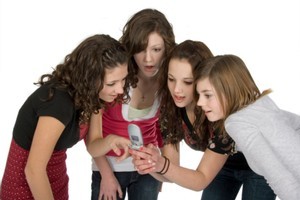 Some secondary schools are banning cellphones in changing rooms to try to stop students photographing and then texting images of their peers without their permission.
The bans are a response to "sexting" - sharing sexually explicit images through text, email or internet messaging.
Patrick Walsh, president of the Secondary Schools Association, said some schools had banned cellphones in changing rooms after they had been used to photograph or film students without their permission.
He said many public changing rooms in gyms and swimming pools had also banned the use of cellphones.
Mr Walsh said he knew of a girl who had sent photos of other girls in a changing room to her boyfriend at a nearby boys school.
The images had been circulated at the school, causing distress to the girls involved.
Mr Walsh said parents usually had no idea about their children's behaviour when they were contacted about a "sexting" incident.
"It seems to be a celebration when a movie star ends up inadvertently in a pornographic movie and they end up making a lot of money and gaining notoriety from it. Some students, unfortunately, see that and think it's okay," said Mr Walsh.
He said that children needed to be taught how damaging sexting could be.
A recent study in the UK found that 38 per cent of children aged between 11 and 17 had received an inappropriate message through text, email or internet messaging.
Among those youngsters, 70 per cent admitted they knew who had sent it.
About 45 per cent of messages were from a peer, 23 per cent from a current boyfriend or girlfriend and just 2 per cent from adults.
NetSafe research manager John Fenaughty said sexting was bound to increase as it became easier for young people to access the internet and mobile phones. He said many teenagers were unlikely to understand the risks of sending sexualised images, even when they were only intended for a girlfriend or boyfriend, unless someone they knew had gone through a traumatic sexting experience.
"For some young people they may think posting an image is worth the risk."
Mr Fenaughty does not believe banning teenagers from technology is a realistic option but they should be educated about their "digital footprint".
PHOTO DANGERS
NetSafe recommends:
* Do not ban young people from using technology.
* Always ask before taking a photo of another person (with a phone or other device) and check that it is okay before sending it to anyone else.
* Be aware that pictures can be manipulated, and may be posted online or distributed to an unknown audience.
* Who do you want to see you? How do you want to be seen?
More info: netsafe.org.nz