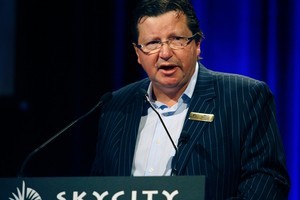 Wellington restaurateur, author and TV presenter Al Brown of the much-lauded Logan Brown restaurant is bringing his culinary skills to Auckland as part of SkyCity's initial $10 million Federal Street upgrade.
His new restaurant, Depot, will be one of three new eateries to open near the Sky Tower as part of the upgrade of the street running between the tower, casino and two hotels, in time for the Rugby World Cup.
SkyCity chief executive Nigel Morrison said The Red Hummingbird by Luke Dallow of Auckland and The Grill by Sean Connolly of Australia would also open in the new precinct, where construction is starting.
Mr Brown, host of the television series Coasters, said Depot would be serving unpretentious, delicious food in a fast and fun atmosphere.
The new restaurants will be on the SkyCity Grand side of Federal St.
SkyCity has acknowledged Federal St needs work, and last year the Auckland Council issued a report which slammed the area as a dark, uninviting area with blank facades, dominated by carparking. It needed changing, the council said.
But no budget was allocated, so SkyCity is paying for the upgrade as part of a deal whereby it will build a big airbridge over Federal St to link one building to another.
That new structure will be 48m long and 9m high.
SkyCity offered to pay so the Auckland Council can afford to landscape and redevelop Federal St, making it a shared space for cars and pedestrians.
SkyCity corporate communications manager Scott Campbell said the business was spending $10 million creating the three restaurants.
Consent was already granted for the three restaurants, he said, but resource consent for the airbridge project was not yet finalised.
This story has been changed from an earlier version.
Mr Brown said Depot would be "serving unpretentious, delicious food in a fast and fun atmosphere. He did not refer to it as a 'gastro-pub environment'.