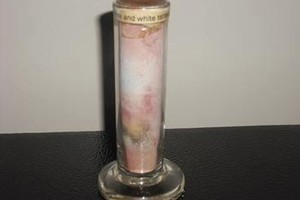 Sand touted as from the Pink and White Terraces is drawing bids of more than $1 million on a website auction - but there are doubts about its authenticity and a Te Arawa kaumatua is warning people not to exploit tribal history.
Two people have vials of pink and white sand on sale on Trade Me, claiming they are from the terraces, a popular tourist attraction before Mt Tarawera's 1886 eruption destroyed them.
Two tiers of the bottom of the Pink Terraces were discovered last week by New Zealand and American scientists using underwater robots to map the bottom of Lake Rotomahana as they looked for hydro-thermal vents and what could have happened to the terraces.
The vials were listed for sale after the discovery was announced.
One, listed by a Taranaki man, has fetched a bid of $1,001,600 while another listed by a Blenheim person has so far failed to attract any bids, with a starting price of $143.
The Taranaki seller states he can have the sand authenticated.
Trade Me spokesman Paul Ford said the million-dollar listing was being treated as a joke.
"We are keeping an eye on it," he said. "Most offers in this neck of the woods don't have a chance. They get withdrawn."
The larger auction closes today.
Te Arawa/Tuhourangi kaumatua Anaru Rangiheuea did not believe the sand was from the terraces.
"It's not right. I wouldn't expect people to do this."
Anyone making such claims needed to be careful of enraging the spirits of dead Te Arawa, Mr Rangiheuea said.
"They need to be careful because there could be repercussions health-wise. [Te Arawa ancestors] could cause a lot of problems for people."
- APN