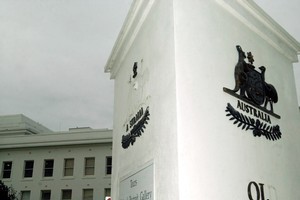 Sick and disabled New Zealanders are taking legal action against the Australian Government over what they call a "discriminatory" law denying them medical care and other state support.
The Family and Community Services Legislation Amendment (New Zealand Citizens) Bill 2001 was also used to cut off recovery payments to thousands of Kiwis caught up in the Queensland floods.
It categorises New Zealanders who arrived in Australia after February 26, 2001, or were on long-term trips overseas on that date, as non-protected visa holders, making them ineligible for many social security benefits.
They must apply for permanent resident status - with a a requirement of having worked at least two years in the country - to get Government assistance.
Glenda Campbell, whose 19-year-old daughter Hannah needs 24-hour care for severe cerebral palsy, has been turned down for three federal disability support allowances since arriving in Australia in 2006.
The Toowoomba resident is preparing to lodge a human rights complaint against the Australian Government with the United Nations.
She is also considering a claim of discrimination against the Queensland Government after being turned down for support from the state's Cerebral Palsy League.
"I'd like to see everyone who comes to Australia in our situation get treated well. We're ANZACs after all. But this is discriminatory."
Ms Campbell said she expects to run out of money within three months, after a donation from a private company is used up.
She cannot afford to replace an old wheelchair Hannah has outgrown or pay to put her in professional care during the day, which costs $20 to $40 an hour.
Her daughter's disability means there is "no point" applying for citizenship or permanent residency in Australia, she said.
Expat Kiwi Priscilla Field said her husband, who she did not want to name, was turned down for state assistance in Australia after being diagnosed with cancer last year.
She lived in Australia from 1985 to 1996, and returned there with her family in 2003.
But she was classed as a non-protected visa holder because she was away from the country on February 26, 2001.
"It's not only flood victims. We were not entitled to any monetary support and had to survive on my part-time wage of $500."
She is trying to gain permanent resident status in Australia but is worried her husband's health will harm her case.
"I have paid 18 years' taxes to Australia, never been unemployed. Now I'm saving either the $6800 to get an immigration agent to help us to try and get residency, or $2535 to attempt to do it myself.
"The treatment Kiwis get is so unfair."
The Family and Community Services Legislation Amendment (New Zealand Citizens) Bill was instituted in 2001 by the John Howard-led Coalition Government.
One of its intentions was to "remove access to social security assistance to NZ citizens newly arrived in Australia who have made no or very little contribution to government revenues, prior to receiving assistance".
Foreign Minister Murray McCully said he was "concerned" at New Zealanders being denied social security payments in Australia.
There was no similar non-protected Visa status for Australian immigrants in New Zealand, he said.
"No doubt this is a matter we will discuss with our Australian colleagues in due course."
But he was reluctant to criticise the Australian Government over the imbalance, as it was dealing with a far greater number of immigrants than the New Zealand Government.
"I understand the changes that took place in 2001 were designed to deal with substantial cost pressures that emerged as New Zealanders took access to the welfare system there.
"The situation is different because the numbers are vastly different."
Hank Jongen, manager of Australian social security agency Centrelink, would not discuss the individual cases of Ms Campbell and Ms Field for privacy reasons.
But he said a range of support payments could be available to New Zealanders on non-protected visas, including the Disability Support Pension if a person is deemed severely disabled.
A Carer Payment was also available to the partner, but not the parents, of someone on a Disability Support Pension.
Allowances, including the sickness allowance, would be available to New Zealanders on a non-protected visa who have lived continuously in Australia for 10 years from later this month, he said.
"If eligible, a customer can receive a payment for a continuous period of a maximum of six months."
Melbourne resident David Faulkner is among those fighting the legislation, which he claims has bred a system of "systemic discrimination".
He arrived in Australia in 1970, when he was six years old, but is classed as a non-protected visa holder because he was stationed overseas by his employer from 1999 to 2001.
His campaign led him to take legal action against the Melbourne Metropolitan Fire Brigade when it turned down his job application because he was not an Australian permanent resident.
A letter of apology acknowledged Mr Faulkner was wrongly considered to be ineligible for employment "by reason of his New Zealand nationality".
He is now helping Ms Campbell take action against the Queensland State Government.
Action against the Federal Government is impossible because it does not have a human rights act, though he is planning to take complaints to the United Nations, he said.
"This is a complaint of real discrimination. It is systemic discrimination against New Zealanders.
"There is no access to social security. As soon as a New Zealander gets sick or gets disabled or wants to go to university, you suddenly realise you're in deep trouble.
"I am going to keep fighting."