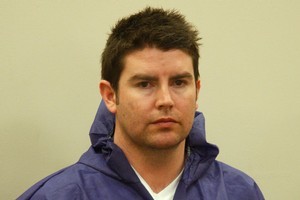 The man accused of murdering Auckland mother Carmen Thomas faces 132 witness statements, 19,000 pages of evidence and CDs containing bugged telephone conversations in the case against him.
Bradford James Joseph Callaghan appeared briefly via a video link at the Auckland District Court yesterday.
New details emerged about the amount of evidence police have gathered. Callaghan's lawyer Stuart Grieve, QC, told the court he had received "tranches of substantial" disclosure that included 20 photo booklets, 132 witness statements, 19,000 pages, CDs and DVDs.
Callaghan has not yet entered a plea on the charge of murdering Ms Thomas, the 32-year-old mother of his son, Jack.
Dressed in an olive green T-shirt and black shorts, Callaghan appeared on a wide-screen television from a private room inside Auckland Central Remand Prison.
The link allowed Callaghan to view the courtroom from different angles.
It enabled him to see the judge, his defence lawyer, the Crown prosecutor and part of the public gallery where his mother sat in the second row with two supporters.
Ms Thomas' sister Colleen Ritson Poole, and her daughter, were also in court.
Callaghan was clean-shaven with cropped hair but had lost weight since his arrest in September.
He answered assertively "yes, Your Honour" to Judge McElrea's questions.
Mr Grieve said he had not yet had the opportunity to have a preliminary view of the material.
He said Callaghan had only recently been transferred back to the prison and he had not had a chance to look at the evidence either.
Mr Grieve said he was not complaining about the time frame of the disclosure and described the police as having carried out a "significant investigation".
The police probe into the disappearance of Ms Thomas took 10 weeks and ended with the discovery of her body which had been cut in pieces, sealed in concrete and buried in West Auckland's Waitakere Ranges.
Mr Grieve asked the court for an extension of time before he decides if he wants to make an oral evidence hearing.
Yesterday's hearing was largely taken up with media applications for in-court camera coverage.
Mr Grieve opposed the Herald's application on the grounds that Callaghan was inside prison and therefore the Herald needed written permission from the Corrections chief executive and the prisoner, according to the 2005 Corrections Regulations.
The rules prevent the media from filming or photographing inmates.
He said photographing a man in prison was "prurient frankly", and submitted that it was quite a different proposition from photographing a defendant in court.
Mr Grieve said the Herald had photographs of Callaghan on file and could use those.
Judge McElrea granted the Herald leave to make submissions on Mr Grieve's opposition. They have since been filed with the court.
Mr Grieve has been asked to file his right of reply by 12.30pm today and Judge McElrea will issue his decision through the registrar.
Callaghan is due to reappear in court in April.