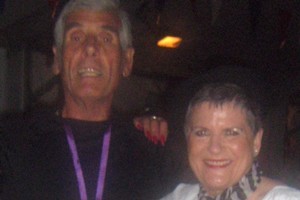 A man whose father was killed by a drunk driver fleeing police says police cannot be blamed and if anything should have chased more aggressively.
Friends Norman Fitt, 73, and Dee Jordan, 67, were killed in Christchurch in August when their vehicle was struck by a car driven by Phillip Bruce Ray Bannan.
Bannan, 22, had been drinking, speeding and was disqualified from driving when he ran a red light and hit the pair. He was jailed for nine years.
The Independent Police Conduct Authority found the police officers who chased Bannan had a duty to try to apprehend him, and were justified in their pursuit. None of their actions was contrary to law, the authority said.
Mr Fitt's son, Steven Fitt, says he and his father had discussed police pursuits in the past and the pair agreed police should always chase motorists who tried to flee.
"The police aren't to blame in any way," Mr Fitt said.
"My father was of that belief as well. He was a strong advocate for the community and lawfulness. Norm was just unlucky - he was just in the wrong place at the wrong time."
Backing off pursuits "just promotes people to drive so dangerously that they are allowed to escape", Mr Fitt said. "Even in a chase, only an idiot runs across a red light. A guy with a few brains would have turned left and lessened his potential danger."
The authority found that the pursuing officers were pulling out of the chase just before the fatal collision because of concerns about the mounting danger Bannan posed.
"I was quite surprised by that because I really thought that was the wrong attitude," Mr Fitt said.
"We should be apprehending these people and punishment should be really immediate - car crushed etc."
But Laura Henry, who suffered lasting serious injuries when a fleeing driver hit her car in 2008, has strongly criticised the police's pursuit policy.
"It wasn't good enough [then] and it continues to be not good enough."