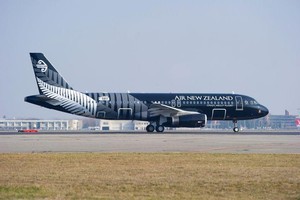 Passengers on Air New Zealand's new black A320 will be able to make phone calls, send texts and check emails - if they are Vodafone customers.
The plane is one of two A320s which the airline is making "mobile phone capable" in the next month.
Passengers will pay roaming costs of $3.50 a minute and 80c for every outbound text. They will also pay $20 per megabyte of data.
Telecom is not offering the in-flight service.
While the move has been welcomed by some, aviation commentator Peter Clark believes the "annoyance factor" of people talking on phones in the close confines of an aircraft will upset some travellers.
"As a passenger myself I would find it extremely annoying, and extremely discomforting, to have a person sitting either side of me - if I was the person in the middle - both talking on a cellphone.
"I am a little concerned for the travelling public. I can't understand why people can't wait one hour and 20 minutes to make a voice call, to be honest."
In May last year Air New Zealand said customer feedback showed passengers did not want people talking into mobile phones on international flights. Spokeswoman Tracy Mills said that had not changed, but the new A320 was only flying domestically and not long-haul.
Customers would still be asked to keep their phones on silent or vibrate mode to minimise disruption to other passengers, she said.
However, she said the airline still had plans to install technology to allow mobile phone text message and email services in its growing fleet of 777-300s, which travel internationally. The service was expected to be running in November but has been delayed.
Voice services will not be allowed on these flights because of the potential disturbance during long flights.
A total of 16 A320s will be added to Air New Zealand's fleet over the next five years, including two which are expected to arrive later this year.
Ms Mills said the airline would evaluate demand for the service before deciding if it would be extended to the rest of the fleet. She said passengers would be able to use the internet but it would probably be quite slow.
The plane is painted black to support the All Blacks' World Cup bid.
Labour's communications spokeswoman, Clare Curran, congratulated the airline. "Domestic passengers deserve the best and this is a step in the right direction."