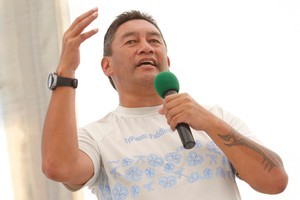 Maverick Maori Party MP Hone Harawira says he is "hugely disappointed" by the party leadership's decision to suspend him from caucus, calling it "hugely disrespectful" and a "clumsy and heavy-handed" attempt to influence the outcome of the complaint process.
A joint statement issued today by Maori Party leaders Tariana Turia and Dr Pita Sharples said the party caucus no longer had any faith in Mr Harawira.
He had caused disunity through incidents of ill discipline stretching over the past five years, it said.
Fractures have emerged in the Maori Party in recent weeks since a Sunday Star-Times column by Mr Harawira criticising the party's policy and direction.
Party whip Te Ururoa Flavell laid an official complaint over the column but neither he, nor party president Pem Bird was invited to a hui intended to resolve the dispute.
It was set to go to a meeting of the party's disciplinary committee on Wednesday.
In his own statement released this evening, Harawira said the suspension showed "huge disrespect" for the kaupapa (loosely translated as values and principles) on which the Maori Party was founded.
It also showed disrespect for the people of Tai Tokerau - Harawira's electorate - "who have given their all for the Maori Party, and for the efforts that kaumatua and kuia of Tai Tokerau and Waiariki have been engaging in to try to settle this matter according to Kaupapa Maori".

In their statement, Dr Sharples and Mrs Turia said Mr Harawira had breached the policies and kaupapa of the Maori Party.
That kaupapa states the party will always speak with a "strong, independent and united voice" for Maori.
"Having no regard for the constitution is one thing. It is quite another to have no regard for the kaupapa and tikanga of the party, and that is really what has brought us to this point."
Harawira said the decision also showed "a complete disregard for the complaint process that the co-leaders were party to, and coming two days out from the disciplinary committee meeting set down to hear the complaint, is also a clumsy and heavy-handed attempt to influence the outcome".

He said the decision was "consistent with a pakeha political process which forced Tariana Turia to leave the Labour Party; a process we had decided would never, ever be used in our own party".

It was also "clearly aimed at silencing the only voice within the party that has offered any genuine and constructive criticism of the Maori Party's relationship with the National government during a time when food, power and petrol price rises, coupled with an increase in GST, are devastating Maori communities the length and breadth of Aotearoa."

Harawira said that "as long as Maori suffer the economic and social disparities that we do", he would continue to raise those issues both inside and outside of the party.

He also confirmed he would be attending Parliament tomorrow, where he would answer further questions.
Speaking at a post-cabinet press conference this afternoon, Prime Minister John Key said he did not want to jump to conclusions about the implications Mr Harawira's suspension might have for the Government, but indicated that it could have benefits.
"What action they take is obviously a matter for the Maori Party co-leaders, but, at the end of the day, we have a constructive relationship with the Maori Party and that's a relationship that's based on finding answers to problems and, from what I can see, that's not the space where Hone Harawira's been."
Hone Harawira's misdemeanours:
February 2011: The night before Waitangi Day, maverick Maori Party MP Hone Harawira gave an address dubbed as a "state of the Maori nation" speech an hour before Maori Party co-leader Dr Pita Sharples gave his own speech with the same title. Dr Sharples said he was insulted by the move, and said Mr Harawira should consider "cutting himself loose" if he wished to continue to undermine the party leadership.
- On his Facebook page, Hone Harawira accused "dickheads" within the Maori Party of trying to get rid of him.
January 2011: Maori Party whip Te Ururoa Flavell laid a formal complaint over Mr Harawira's Sunday Star-Times column which included a barrage of criticisms of the party and its coalition with the National Party.
July 2010: Mr Harawira was widely criticised for comments made in an interview with the Weekend Herald, where he said he wouldn't feel comfortable with his children dating Pakeha.
November 2009: In an email response to criticism of the way he skipped off to Paris while on a parliamentary visit to Brussels, Mr Harawira told former Waitangi Tribunal director Buddy Mikaere: "White motherf...kers have been raping our lands and ripping us off for centuries and all of a sudden you want me to play along with their puritanical bullshit?" He invited Mr Mikaere to go to the media with the email, which Mr Mikaere did. Complaints flooded in to the Race Relations Commissioner and Maori Party leaders came close to expelling Mr Harawira from the party, but after he apologised he was allowed to stay.
July 2009: Mr Harawira penned an abusive email to Ministry of Maori Development officials in July over a brochure about the Maori flag, accusing them of "shafting" him and threatening to "go apeshit" and "expose this as a sham" if they did not make changes he wanted.
- NZ Herald staff, NZPA