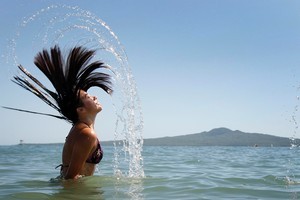 Scorching conditions which caused an Australian heatwave have crossed the Ditch, breaking temperature records in the South Island.
After Australians sweltered in their beds on Saturday night - Sydney recorded 32.2C at midnight - New Zealanders experienced stiflingly muggy weather in the North Island and crisp, hot conditions in Canterbury and Central Otago.
In Timaru, MetService temperature gauges hit 40.3C about 3.30pm yesterday - the hottest recorded in the city. Its previous highest reading was 39.7C in February 1973. Emergency services attended several callouts for elderly people fainting in the heat.
Christchurch, Ashburton, Alexandra and Oamaru also had blistering-hot days, all recording 36C.
Forecasters reported that the temperature readings were limited to the area around weather stations, so downtown Christchurch would have felt more like 40C.
Many North Island cities became uncomfortably muggy, with Wellington and Auckland recording almost 100 per cent humidity. Low fog yesterday meant 25 flights were delayed or cancelled at Wellington Airport.
MetService weather ambassador Bob McDavitt said, "Our humidity levels have recently reached similar levels to Fiji. You don't have to go to the tropics for your summer holiday - their air is coming here."
WeatherWatch analyst Philip Duncan said the high that protected New Zealand from Cyclone Yasi was responsible for the weekend's scorching weather.
The high acted as a "big brick wall" against the cyclone's wind and rain, but also ensured that very warm air was pushed towards New Zealand.
"We're very connected with Sydney ... We share the weather of New South Wales and Victoria, but basically a day later," said Mr Duncan.
Sydney last week experienced its longest spell - seven days - of 30C days in 150 years of records. Some suburbs had a week of 35C days.
New Zealand's highest recorded temperature, 42.4C in Marlborough and Rangiora in 1973, occurred on an almost identical weather map to the weekend's, and also followed an early-February heatwave in Australia.
The South Island cooled down quickly yesterday, with Oamaru dropping 15C in as many minutes as a southwesterly moved up the island.
The North Island will remain muggy until around Wednesday. It is also likely to see rain and drizzle in most places, but with a glimpse of sun this afternoon.
Along Auckland's coastline, sea temperatures have reached 23C.