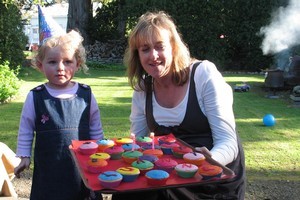 A father who lost his pregnant partner to an alleged drink-driver has called for a new law so charges can be considered against the killers of unborn children.
Len Blackaby, 44, has told of his grief at watching his unborn daughter Siobina Maree buried in her own casket alongside the love of his life, Ann-Maree Hardiman.
He wants to see drink drivers prosecuted for killing unborn children.
"Unfortunately the unborn child has no rights so they can't prosecute him for her death."
But Blackaby says he is determined not to let the "18-year-old shithead" ruin his life.
Hardiman, 42, was returning home from a Gin Wigmore concert when she was allegedly hit head-on by Isaiah Joel Kokiri, who had been kicked out of a nearby party.
Blackaby said he was angry Kokiri was given relaxed bail conditions when he appeared in Palmerston North District Court this week charged with drink-driving causing the death of Hardiman.
"He can drive to the doctor's and rehabilitation. He has no curfew - the only thing he can't do is consume alcohol."
Blackaby paid tribute to his "beautiful, soft, vibrant" partner, and said he planned to see out her wish to be a stay-at-home parent for their 2-year-old daughter Luanne.
"One of the philosophies we had was we wanted a stay-at-home parent for our children so our morals and values are put into our children - they are not left to other people to sort out."
Blackaby has taken Luanne to the crash site at the Manawatu town of Opiki, and has tried to explain that "Mummy" isn't coming home.
"Jupiter is a very bright shining star at the moment so we focus on that. I tell her Mummy is on that star with Siobina. I am not hiding the facts from her and saying 'Mummy is coming home' cos she ain't. That is the reality of it all."
Blackaby said he spoke to his wife three times on the night she died. "I am lucky the last thing I said to Ann-Maree was 'I love you, I will see you soon'."
Blackaby said he had tentatively chosen a name for the unborn girl before the crash.
According to court documents, Kokiri was nearly three times over the legal blood-alcohol limit of 30mg for under-20s when his Subaru crashed into the Civic driven by Hardiman just after midnight on November 13.
Hardiman, who was seven months' pregnant, died at the scene. Her 42-year-old female passenger, who is also from Horowhenua, has been suffering from post-traumatic stress after sustaining serious injuries in the crash.
Kokiri, from Masterton, is also charged with excess blood alcohol causing injury.