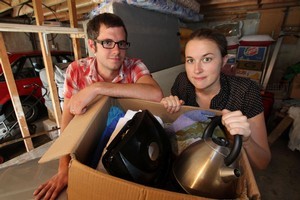 Two couples were left with little more than the clothes on their backs after moving trucks containing lifetimes of possessions went missing for five weeks.
Daniel and Tara Hight were forced to sleep on the floor of their empty Te Puke home after hiring Wellington firm Right Transport to shift their stuff from Christchurch.
Dwayne O'Leary and Anita Owen had to stay at their parents' house in Napier after their shipment disappeared between the capital and Hamilton.
Both couples have told of their frantic attempts to track down possessions after Right Transport owner Sarah Pakard stopped returning their calls.
O'Leary, a 27-year-old chef, said he couldn't work because his knives were in the truck.
"They had literally everything we owned, except for what we were wearing and a couple of changes of clothes," he said.
"We were out of money, trying to find jobs and shift city, and it was the middle of Christmas. It was tough going."
O'Leary said Pakard swung between avoiding communication and sending emails detailing "whimsical" personal crises. He and his wife got contact information from internet databases, social networking sites and electoral rolls, and "spammed" every trucking company and storage facility in Wellington to find their stuff.
Daniel Hight, 24, described the ordeal as "a bit like running a private investigation firm".
After five weeks in the lurch, both couples discovered their things were in a shed behind a bookshop in Wainuiomata, near Wellington.
The O'Learys got everything back. The Hights are missing two sets of golf clubs, kitchenware, irreplaceable photos and other personal mementoes.
Their fridge and near-new couch were also damaged, but Daniel said he was just relieved to have a bed to sleep on.
The couples allege the truck driver dumped the stuff in a friend's shed because of a dispute with Pakard over pay. Pakard denies this and claims the driver owed her money.
She said she accepted responsibility for poor communication but insisted she was a victim too. "Ultimately what happened was my so-called business partner ripped me off considerably," she said.
"I bit off more than I could chew and the company is no longer operating."
The Hights paid $400 and are trying to contact Pakard about a refund. O'Leary and Owen paid $900 and they got a refund. Both couples booked Right Transport through the internet site www.backloadmoving.co.nz. People register details of a shift on the site and companies get in touch to offer their services.
The site was set up by Beth Houlbrooke, who said she screened providers by checking licences, calling character references and talking to people in the industry.
But she said she could have done more to recognise Right Transport was not a reputable company. "It's been a huge lesson. I'm kicking myself for taking them on."
She said at least four other customers had paid deposits to Right Transport before being given the runaround.
New owners will run the website from tomorrow.