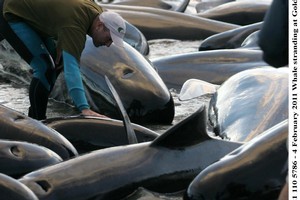 A group of pilot whales appears to have restranded on Farewell Spit, at the top of the South Island.
Department of Conservation (DOC) spokeswoman Trish Grant told NZPA details were sketchy as access was difficult but people were being ferried into the area.
Yesterday, 80 whales stranded at Puponga Point in Golden Bay, near the base of Farewell Spit - 14 of which died.
The rest refloated on the high tide about midnight and split into two groups; one group headed out to sea but the other had been trying to restrand all day.
DOC staff, Project Jonah volunteers and members of the public had worked throughout the day to avert a restranding, and had been successful a couple of times, Ms Grant said. Tactics included standing in the water to form a barrier to the beach.
However, it appeared the mammals had succeeded in restranding early this afternoon.
The next high tide was at 1am but an assisted refloat could not be done in the dark, she said. That meant it could be nearly 24 hours until they were refloated.
In the meantime, the whales would be kept as hydrated and protected from the sun as possible.
It was not known why whales stranded but theories included navigational mistakes, Ms Grant said.
"It's something that has occurred reasonably often in Golden Bay with pilot whales, and just even the shape of the bay could mean they kind of get a bit caught with the spit coming round, so it could just be navigational error," she said.
Pilot whales are about 4m-6m long. They are the most common species of whale seen in New Zealand waters.
Last month 24 pilot whales died after stranding in Parengarenga harbour, near Cape Reinga in the Far North.
In December 2009, more than 120 whales died in two separate beachings at Farewell Spit and Colville Bay, north of Coromandel.
In December 2006, rescuers managed to save the majority of 140 pilot whales stranded at Puponga Bay.
But just two weeks later, on New Year's Day 2007, 50 whales died after beaching at Farewell Spit.
- NZPA