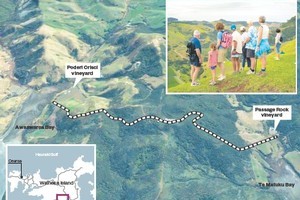 Waiheke landowner Rob Fenwick was once offered a fortune by a mining company for the high-quality aggregate beneath his feet.
But he resisted, preferring to permanently stop quarrying on his idyllic 373ha block and gift some of it to the council for public use.
The public will get their first look at a section of the land today, in the form of a stunning 3km walkway on the southeast end of the island.
Mayor Len Brown will officially open the path, which took a decade to complete after Mr Fenwick gave the land to the Auckland City Council.
Mr Fenwick, founder of Living Earth, says he has no regrets about not cashing in the 50 million tonnes of aggregate under his property, which would have created an opencast pit if it had been mined.
He is instead thrilled that the public will experience the regenerative bush and bellbird song on the peninsula between Awaawaroa Bay and Te Matuku Bay, and hopes it will become a tourist attraction.
The path wends its way between two wineries, Poderi Crisci and Passage Rock Wines. It runs along a high ridgeline, at one point giving a 360-degree view, with the Hauraki Gulf and the city on one side and Great Barrier on the other. It also takes in the pa site Te Puke o Kai and a marine reserve.
Walkers will sometimes be at some of the island's highest points, and sometimes under a tall canopy of kauri, kahikatea, North Island beech and an enormous puriri.
The pathway will help meet Mr Fenwick's goal of enabling people to walk right round Waiheke without stepping on public roads.
The ecologically minded businessman said his motivation for the gift was the rapid colonisation of Auckland's coastal and bush-covered land by developers.
"There really isn't that much forest land available apart from the magnificent Waitakeres.
"Increasingly, private owners of coastal lowlands - where there's little [Department of Conservation] estate - are in control."
The peninsula which the walking track traverses was one of the first on Waiheke to pass to European ownership, in 1840.
It was logged for kauri and intensively farmed in the 1930s and 1940s before Mr Fenwick's family purchased it in two lots in 1985 and 1987. Regenerative bush has since pushed through some of the pasture.
Since the approach by the mining industry, he has moved to have the land protected by covenant under the Reserves Act, which locks it away from quarrying in perpetuity.
Mr Fenwick said he was challenging the notion that conservation was a role to be performed only by the Government.
He aimed to return 60ha of the peninsula to its original forest cover, rid it of pests and introduce further species. The bellbird already flits among the regenerative forest. Next, he hopes to introduce kiwi.