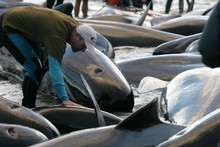 A pod of 66 pilot whales beached west of Nelson yesterday swam off on the high tide overnight, the Department of Conservation (DOC) says.
But its staff were now looking for the whales along the coast near the base of Farewell Spit in Golden Bay to see if they had restranded elswhere, DOC spokeswoman Trish Grant said.
"We don't know whether they have managed to swim safely up sea or whether they may have stranded somewhere else along the coast."
Members of the public alerted DOC after finding about 30 whales stranded at 1.30pm at Puponga Point yesterday.
DOC staff tried to prevent other whales from beaching, but had only managed to save four, leaving 80 whales stranded. Fourteen whales have since died.
Ms Grant said the mammals disappeared overnight following the high tide about midnight, leaving five dead on the beach.
DOC staff were planning a helicopter search for the 66 whales, but Ms Grant said visibility would be poor because of this morning's light rain and low clouds.
"We are hoping it will clear and enable us to get a helicopter up," she said.
More than 100 DOC staff and volunteers, including tourists from overseas and locals, worked to keep the whales hydrated and protected from the sun yesterday.
Not much could have been done for the whales overnight, so staff members kept an eye on them.
They did not see the whales swim off because "it was dark", Ms Grant said.
"They can't see and they had to be some distance from where the whales were. We just had people in the vicinity just in case onlookers came."
Whale strandings were not uncommon in the area, and some whales had been successfully saved, she said.
"Some, even though they are refloated, do wash up dead later on because they've been through such an ordeal so they are considerably weakened by it."
It was not known why whales strand, but people had theories about it including mistakes in navigation, Ms Grant said.
"It's something that has occurred reasonably often in Golden Bay with pilot whales, and just even the shape of the bay could mean they kind of get a bit caught with the spit coming round, so it could just be navigational error."
Pilot whales are about 4m-6m long. They are the most common species of whale seen in New Zealand waters.
Last month 24 pilot whales died after stranding in Parengarenga harbour, near Cape Reinga in the Far North.
In December 2009, more than 120 whales died in two separate beachings at Farewell Spit and Colville Bay, north of Coromandel.
In December 2006, rescuers managed to save the majority of 140 pilot whales stranded at Puponga Bay.
But just two weeks later, on New Year's Day 2007, 50 whales died after beaching at Farewell Spit.
- NZPA