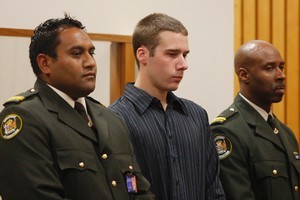 Rosemary Ives had everything to live for. The much-loved 25-year-old teacher had bought a house with her long-time partner, had plans to travel and owned a dog called Tui.
But she was shot dead while brushing her teeth at a camping ground in the Kaimanawa Ranges at Labour Weekend last year.
Yesterday, her killer, Andrew Mears, was sentenced in the High Court at Rotorua to two and a half years in prison after previously pleading guilty to manslaughter.
Mears, 26, and three friends had been using a spotlight on the back of a ute to hunt for deer in the Kaimanawa Forest Park when Mears spotted what he thought was a deer in the bush.
He fired his .243 Remington rifle. The deer eyes turned out to be the head torch of Ms Ives, who died of brain injuries.
It is the first time that a charge of manslaughter has been laid as a result of someone being killed by a hunter.
Ms Ives' partner of four years, Adam Hyndman, told the court that before the shooting, they had celebrated their one-year anniversary of buying a house, and planned to spend the rest of their lives together.
He said Mears shot his partner dead in a "needless, violent manner" and did not come to help while he (Mr Hyndman) spent one and a half hours giving her CPR.
"The bullet had entered her right cheek and created a large tear."
Mr Hyndman's notes shook in his hand as he told the court that he tried to think of the happy memories of spending time with Ms Ives but the images of her death kept coming back.
"Our home has become an empty house. My constant companion who I depended on so much has been taken away," Mr Hyndman said in a wavering voice.
Ms Ives' mother, Margaret McFarlane, said her daughter loved the outdoors, native birds and her "practice baby", dog Tui.
She held sprigs of rosemary and a photo of her daughter as she told the court how she was "completely heartbroken and grief stricken" at losing her best friend and first-born child.
"We now have the soul-destroying task of packing up her treasured possessions," Ms McFarlane said.
She said she had been unable to continue her work as a secondary school teacher and her partner, Rob Raill, had had to take leave without pay to support her.
"I will yearn and long for my daughter for the rest of my life," Ms McFarlane said.
Crown prosecutor Amanda Gordon said Mears had told police that he was aware there were other campgrounds in the area when he mistook Ms Ives for a deer.
Ms Gordon said Mears had failed to identify his target and had contravened his Department of Conservation shooting permit by hunting after dark.
Mears' lawyer, Roger Laybourne, said that his client had accepted full responsibility for the shooting from day one.
Mr Laybourne said his client deserved a sentence of home detention and had shown remorse when he appeared on a television current affairs show. Mears described himself as "Idiot. Killer. Stupid. Loser".
He said his client had tried to call emergency services on the night of the killing but had no cellphone coverage so returned to camp to make the call and see if any fellow campers had first aid boxes.
Asked by Justice John Priestley why Mears had been shooting in the dark, Mr Laybourne said his client had a case of "buck fever" and had been caught up in the excitement of hunting.
"It is not a defence but an explanation," the lawyer said.
He said Mears would borrow $10,000 from a family friend to make reparations to Ms Ives' family.
(They have said they will donate the money to a charity they believe corresponds with Ms Ives' values.)
Justice Priestley took the donation, remorse and early guilty plea into account but said a sentence of home detention would not be appropriate.
He said Mears had not identified his target, had no idea of the area and no comprehension of where his bullet would go if he missed his target.
Justice Priestley told Mears that Ms Ives had been killed "because of your stupidity".
He described the case as a "cautionary tale for hunters".