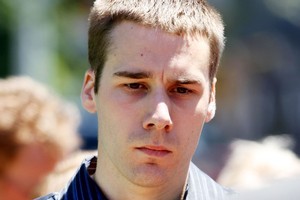 A jail term handed down today to a Hamilton hunter who mistakenly shot a young woman has been endorsed by the New Zealand Deerstalkers' Association (NZDA), which called for the man's hunting companions to also be charged.
Andrew Neville David Mears, 26, an upholsterer, had pleaded guilty to the manslaughter of Wellington schoolteacher Rosemary Ives, shot while she was cleaning her teeth at a Turangi campsite at Labour weekend in October last year.
It was the first time a charge of manslaughter had been laid against a New Zealand hunter, the High Court at Rotorua was told.
Justice John Priestly jailed Mears for two-and-a-half years, ordered him to pay $10,000 reparation to her partner, as representative of Miss Ives' family, and ordered the destruction of the .243 calibre rifle that claimed his victim's life.
Mears and two friends were spotlighting for deer from a moving ute at night when the shooting happened.
Miss Ives, who taught at a Lower Hutt school, was wearing a light on her head, which was mistaken for the eyes of a deer.
NZDA national president Alec McIver said tonight he thought the judge fairly and clearly arrived at a custodial sentence, though the defence clearly wished to see a sentence of home detention imposed.
Mr McIver said Mears' lack of regard for his Department of Conservation (DOC) hunting permit and for the basic firearms rules he was expected to know when he gained his firearms licence, were noted and considered to be grave and contributing factors by the judge.
"The judge called Mears' conduct `a stupid act'; NZDA can do nothing but agree," he said.
"We are pleased the judge has taken such breaches of a DOC permit and of the arms code into account," said Mr McIver.
NZDA also endorsed the judge's view that the sentence should not be considered a benchmark for any other cases where hunters were charged with manslaughter.
"NZDA understands this is the first case of its kind in recent years, and expects the judiciary, the police and the Parliament of New Zealand to work harder to secure safer provisions in the Crimes and Arms acts, so that ambiguities around charges and sentences do not occur again, as they did in this case," he said.
Mr McIver said his organisation was concerned to see that Mears' accomplices had not been charged and urged police to secure and lay informations on them promptly.
"Letting them off will send a tragic message to those who love the outdoors, and who expect to be able to use it safely without the stupid acts of men like Andrew Mears and his associates."
Miss Ives' mother, Rosemary McFarlane, also criticised the fact Mears' associates were not also charged.
- NZPA