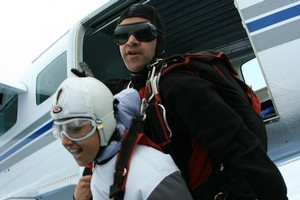 Having faced cancer, jumping out of a plane at 15,000 feet held no great fear for Haylee Koroi.
But the 18-year-old leukaemia sufferer's family, from Birkdale on the North Shore, were not all as brave as she was when she dragged them along to go skydiving with her.
Haylee's father Ben, mother Cindy, and brother Cain, 15, were invited along in what Haylee saw as a way of thanking them for their support during her arduous treatment regime.
"It was amazing. It's funny because I was actually not nervous the whole time," Haylee told the Herald.
"At first I had to convince [the family]. And my Dad was sceptical right up until we got there. I think it was because my brother was freaking him out, psyching him up and stuff. But once you are in the plane, you actually have to jump. You have no choice in the matter. So he had to jump."
Haylee and her family made the jump on an adventure trip to Queenstown organised by Make-A-Wish New Zealand.
Diagnosed with biphenotypic leukaemia in March 2009, Haylee has been through demanding courses of chemotherapy and other treatments.
"It was pretty intense. When I was going through my intensive chemo, my hair fell out and I was pretty sick."
Haylee is now on course to reach remission in July, but will have to remain vigilant against the illness returning.
"I don't really think about it too much. At present, as far as I'm concerned, I'm back to full health."
Make-A-Wish grants more than 160 wishes every year for young people with life-threatening medical conditions.